8 DUNEDIN ST, ST MARYS BAY
SIZE:
Land: 328sq m, house 296sq m.
PRICE INDICATION:
CV $2,250,000.
INSPECT:
Sat, Sun noon-12.30pm. Auction July 24.
SCHOOL ZONES:
Ponsonby Primary, Auckland Girls' Grammar and Western Springs College.
CONTACT:
Lynn Gore, Unlimited Potential, ph 027 473 4500; Wayne Bulog, 021 272 3557.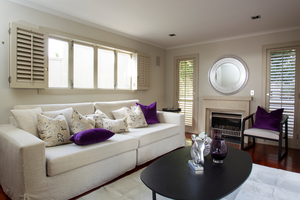 As you might imagine, Flight Centre managing director Michael Friend is a high flyer who spends a great deal of his life in planes, so the lift that goes from the basement to the top level of his St Marys Bay home is definitely one of the features that helped sell him on the place when he first saw it two years ago.
"I can pack a suitcase and have it down in the garage, ready to go, within minutes," he explains. "You can also use it for getting groceries from the car to the kitchen. It's brilliant."
The north-facing city pad has been ideal for Michael in many other ways.
"It's got a great entertainer's kitchen but I'm an eating-out person so I have to confess that I haven't used it much. This house is so well located in terms of walking to all Ponsonby's cafes and restaurants.
"It's also perfect for getting to and from work in the city, at five minutes each way."
The kitchen is part of a spacious living and dining area with a gas fire and fantastic views to Waitemata Harbour, its marina and mighty bridge.
Michael says he could sit for hours on the balcony looking at the view -- in any kind of weather -- but unfortunately seldom has the time. Having just organised a ball for 1600 employees and industry associates, he's making a career transfer to Vancouver.
"In many ways I've really only lived in the front part of the house and my bedroom suite on the top floor, which has its own bathroom and a walk-in wardrobe."
However, there is much, much more to this large, well-built 11-year-old property with its smart, neutral decor. Two further bedrooms on the main, split level are served by a well-appointed bathroom, and a separate lounge to the rear is private and elegant, opening to a series of charming courtyards in the secluded back yard. This space is ideal for entertaining in summer.
On the basement level an enormous internally accessed garage can house four cars comfortably but it's equally suitable as a party space, and there are little storage nooks and rooms with potential for development into a wine cellar and other service areas. On this level, too, is a self-contained bedroom and bathroom, which could accommodate a teen -- or even a boarder, perfectly.
"It's the ultimate lock-up-and-leave house."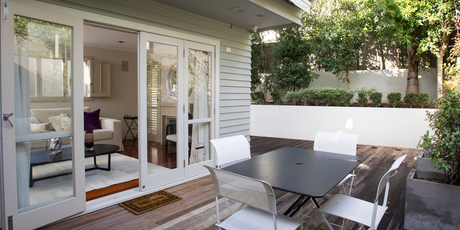 Neat and compact despite its 296sq m floor area, this lifestyle charmer has little need for maintenance. It's secure, has a central vacuum system and a separate laundry. The gas fire amply heats the main living area and gas bayonets are installed for use elsewhere, but Michael points out that they're rarely needed. "It keeps pretty warm."
He's already ascertained that he won't get anything quite as good for the same money in Vancouver.
"I believe that you should put down roots wherever you go, and really live there. I'm glad I bought this place and I'm sorry to be selling it because I've enjoyed it a lot. It's seen some good parties and I've had lots of family and friends from Australia to stay. It's great for guests because everybody can have privacy.
"Oh, and the neighbours are lovely, too," he adds. "They really look out for each other, which is nice. I always feel that the house is perfectly safe when I go away."