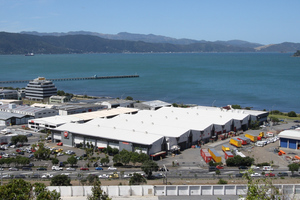 The New Zealand Post Mail Centre on close to 2.3ha of prime waterfront land on the Petone Esplanade north of Wellington city is being sold by tender.
The property at 47 The Esplanade has a lease back to New Zealand Post and a September 2013 rateable value of $15.4 million.
"This is a significant and substantial property in one of Wellington's leading industrial areas," says Grant Young, who with Mark Hourigan of Bayleys Wellington, is offering it for sale by international tender closing on Wednesday.
Young says the 2.2748ha freehold site was bought by New Zealand Post in 1985 and has unobstructed views to Wellington Harbour and south towards Wellington City.
The New Zealand Post property is rated at 71 per cent of New Building Standard and encompasses buildings of 13,345sq m, including warehouse and administration facilities.
New Zealand Post said last June its mail processing at the site would be transferred to Manawatu and other non-mail processing functions by August 2015 as the company gradually centralised its processing activity from six locations to three.
"This highly visible site has strong credentials in the current market in which developers are re-emerging on to the commercial and industrial scene," Young says.
"It is well-linked to the region's wider motorway network in a precinct that continues to outperform the region as a whole in terms of occupancy and vacancy rates.
"The property is an exceptional offering and offers a potential redevelopment site with three high-profile road frontages along The Esplanade, Nevis St and Hutt Rd.
"The added bonus is the holding income to a Government tenant, New Zealand Post, with a short lease until August 2015 and rights of renewal with a final expiry of February 2016."
Young says an annual gross income of $1,791,505 plus GST will assist the purchaser for an initial term while they determine the best use for the site, whether that be self-occupation, re-leasing or redevelopment.
Hourigan says the Petone site has wide-reaching use options.
"It lends itself to bulk retailing on a comprehensive scale given that the existing big box operators are not currently clustered together."
He believes the Hutt City Council's incentives to encourage economic development and job creation in the area could have application to the general business-zoned site.
"This could enable a new owner to access waiving of building and resource consent fees and development contributions for qualifying projects," he says.
"There is also rates relief available where a project is of strategic importance for the city's future economic development."
Hourigan says the council's proactive approach has paid early dividends, as Big Save Furniture and Masterpet have committed to large scale projects in Hutt city.
"A well-thought out structured commercial development in this location could tie together the bulk retail sector and become a destination precinct perhaps with an overarching home improvement theme.
"The flexible zoning could also allow residential development or even rest home provision given the location on flat land close to the heart of Petone's retail strip and transport options."
Young says the residential market in Petone is continuing to perform well with the streets leading off the main street, Jackson St, being home to character homes that are sought-after in the wider Wellington market.
"The apartment market in Petone is untapped and a residential component on the New Zealand Post site could work with the right vision from a forward-thinking new owner," Young says.