460 UNION RD, PATUMAHOE, FRANKLIN DISTRICT
SIZE:
Land 1.9ha; house 565sq m.
PRICE INDICATION:
By negotiation (offers above $1.5 million).
SCHOOL ZONES:
Mauku and Patumahoe primary schools, Pukekohe Intermediate and High schools.
CONTACT:
Michael Jenks, Barfoot & Thompson, ph 0274 737 768 or (09) 238 7019.
FEATURES:
Large country home with backdrop of native bush. Large rooms and house has potential as two living spaces for extended families. Great indoor-outdoor flow between living rooms and decks. Drive-through garage and plenty of space for growing kids to play outside.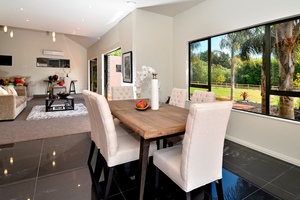 Attention to detail is obvious in this builder's-own tilt-slab home set on 1.9ha with a native bush backdrop in rural Patumahoe.
When Shane O'Flaherty and his wife, Sarah, bought the land 10 years ago it was "totally bare".
"It was all just paddocks, I have created everything from scratch," says Shane. "I built the first 200sq m of it and then I added on another 365. Basically I added another complete home to it. It's 565sq m. It doesn't feel that big because all the rooms are large."
When it came to drawing up the plans the main emphasis was on indoor-outdoor flow for entertainment areas.
And then there is Shane's pride and joy, the five-car double and tandem garage. "I like my fishing so I set it up so you can drive in one side and out the other. It accommodates quite a big boat."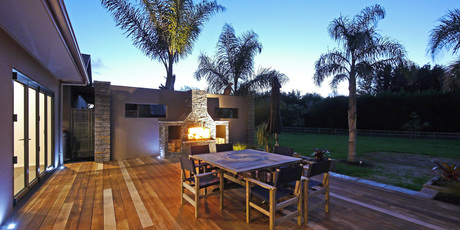 Work and family, of course, come first and for this home Shane has used his building skills.
"I manufacture, supply and lay stonework. It is all handmade and all made to look like schist stone. All the stone that you can see around the house is what we do."
The stonework features in the gated entrance to the tree-lined driveway, in the home's main entrance, the outdoors fireplace and in the garden area by the deck.
Shane is a big fan of tilt-slab homes, describing them as bulletproof. "You can't damage the outside walls, it's waterproof and you never have an issue with leaking or rotting timber. "And the tilt slabs mean the house is soundproofed. "The only time you ever hear the rain is if it's driving against the windows."
Shane and Sarah enjoy living in the country and aren't moving far. They have kept part of their original block of land, which has a separate driveway and already houses Shane's work shed. "We will build another house down there."
Shane imagines their home will appeal to a large family. He says by adding a kitchen to the first part of the home he built, this area could be self-contained for parents or in-laws.