182 HOOKER RD, TAMAHERE
SIZE:
Land 15.76ha, house 790sq m.
PRICE INDICATION:
Similar properties have sold for $4 million plus. Tender closes December 6.
SCHOOL ZONES:
Tamahere Model Country School and Hautapu School.
CONTACT:
Richard Peacocke, Vosper Realty, ph 021 923 651.
FEATURES:
Landscaped grounds include pools/pool house. Studio/loft with separate shower.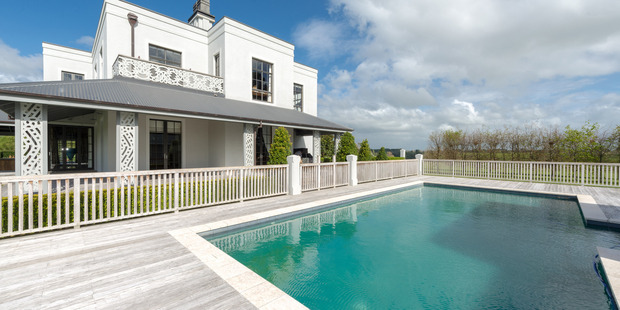 Getting their hands dirty and experiencing rural life brought Gordon and Barbara Campbell and their children to the wide open spaces of the Waikato after leaving Auckland behind.
"We took on a challenge to do something differently," Gordon says. "We moved from Auckland to the country to get a different lifestyle for our family and to run a business out of the Waikato that could connect with anywhere in New Zealand."
Gordon, a business strategist and marketing specialist, likes to embrace challenges and try out new ideas. He thinks back to the move 10 years ago, away from the trappings of an urban lifestyle. "We have two sons and a daughter and it was about getting them a bit more exposed to life in general and working in the outdoors."
The children were then of primary-school age - Belle, 7, Ricky, 11 - and the eldest, Kenzie, was 14. After looking unsuccessfully for a ready-made rural homestead, they decided instead to buy land and build. They settled on this 15.76ha Tamahere property, with mountain and water views, and just two minutes away from SH1, halfway between Cambridge and Hamilton.
"The land looks over the Waikato River and to three mountains, being Maungatautari, Pirongia and Kakapuke. It is a beautiful place to bring up a family," Gordon says. "An idyllic spot."
The two-storey country homestead they built is magnificent. Architecturally designed, it has a large lounge, a ballroom, a formal dining room, extensive gourmet kitchen, an office for six people plus a meeting room and private sitting room/music room on the ground floor. A large sweeping staircase leads up to eight bedrooms, bathrooms and balconies that look over the farmland and neighbouring horse paddocks.
Maori detailing in the veranda posts references how 200 years ago Maori grew kumara all over what is now the Campbells' land.
Generous decking wraps around three sides of the house. Inside, the stud is 3.5m high and the design features special touches including the three Oamaru white-stone open fireplaces, Pacific-themed parquet flooring and four-door Aga oven.
Outside is the garage with a preserve storeroom, a workshop and a huge loft. There is the big swimming pool, in-ground spa pool, pool house and outdoor shower. But the couple's favourite outside place is the sunken garden with its edible hedge. "It's a beautiful house in the country, it has the wow factor. Anyone that comes here, it takes their breath away," Gordon says.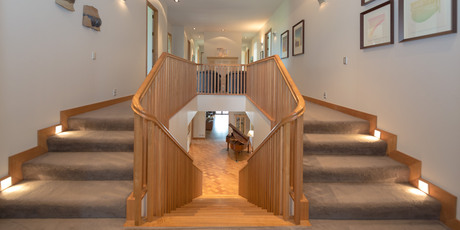 The other big appeal of country living is growing a lot of their food. They have nurtured four large kitchen gardens with abundant vegetables and flowers and a 90-tree heritage organic fruit orchard.
Barbara describes how the family loves the earthiness of being able to eat salads straight out of the garden and to pick fruit off the trees. "And being surrounded by lush grass and seeing the Milky Way at night as there are no street lights."
Now the children are growing up, Gordon and Barbara are looking to change their lifestyle again, with their aim to have a place still in Tamahere as well as a place in Auckland. "That mixed lifestyle is pretty cool, having the best of both worlds," Gordon says. "It's just two hours to Auckland; it's an easy drive."