THE ISAAC, 54-64 SURREY CRES, GREY LYNN
SIZE:
From 51sq m to 129sq m (plus balconies on average of 10sq m).
PRICE INDICATION:
From $530,000 to $1.22 million.
INSPECT:
Tues/Wed/Thurs/Sat/Sun 12-4pm or by appointment.
SCHOOL ZONES:
Grey Lynn Primary, Ponsonby Intermediate, Western Springs College, Auckland Girls' Grammar.
CONTACT:
Maria Salmon. Ph: 027 274 0573 or 0800 Ockham
FEATURES:
New apartments in three boutique buildings set in a landscaped lane. Easy walk to Grey Lynn shops and West Lynn village, and a couple of minutes' drive into the city or to motorway. Reinforced concrete and steel construction to latest earthquake standards, high studs throughout, roof garden with communal living/kitchenette, secure basement car parks.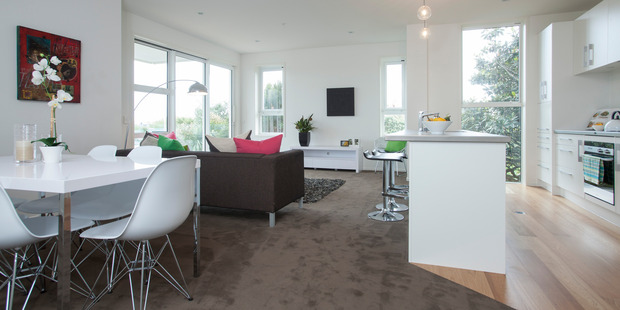 There is a good reason why The Isaac apartments in Grey Lynn bear the name of one of the most influential scientists and mathematicians of all time.
Developers Mark Todd and Ben Preston, of Ockham Investments, studied mathematics at university and are huge fans of Sir Isaac Newton. They wanted to pay tribute to his genius and although they have done that in a fairly obvious manner - by naming the three buildings in their boutique development Newton's First, Second and Third Buildings after his three laws of motion - there have honoured his legacy in other, more subtle ways.
Although best known for his work on gravity, Newton carried out seminal work in the field of optics and colour. So the carpets in the building feature graduations in colour to resemble a light spectrum, LED lights in the hallways become different shades and the detailing in the precast panels on the outside of the buildings reference Newton's discovery of light interference. "Think of dropping two pebbles in water and what happens when the ripples meet," Mark says.
This incredible attention to detail and depth of thought and planning typify Mark and Ben's projects. Their company philosophy is to produce buildings that are beautiful, sit well in the neighbourhood and improve the local environment. They also have to be made from durable, low-maintenance materials that age gracefully and incorporate best-practice design principles. The Isaac meets all these criteria.
"We want to set the tone for the neighbourhood," Mark says. "We want these to be places where people will want to live for many years, and with that comes the responsibility of creating housing that will look good and last well for at least the next 100 years."
He says many Aucklanders are wary of apartments because of the leaky building crisis and the fact there are some shoddy developments around. "But we want to raise people's expectations of what can be done."
In Mark and Ben's favour is the fact that Ockham is extremely well-funded, thanks to Ben's background as a US-based investment banker. Ben wanted to get a better return on the money he had accumulated so went into the development business with his good mate Mark. The two first met at kindergarten in Mt Wellington and although they went to different secondary schools they both studied mathematics at the University of Auckland. Neither worked as a mathematician - Ben went into banking and Mark, after doing his OE, returned to Auckland and started painting houses. He and his builder brother then got into renovating homes, which eventually led to the development business.
Ben and Mark started Ockham in 2009, as the global recession was hitting, but the fact they've got plenty of money behind them means they always use superior products, don't cut corners or have to sell off plans.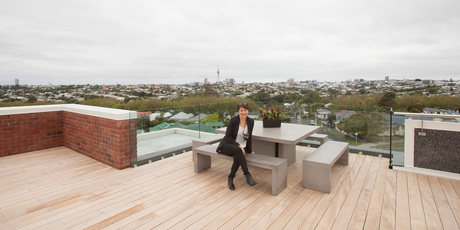 This has given them the freedom to be community-minded and do things like making the roof of each building a communal area. Along with a rooftop garden that has outdoor furniture, trees and a lawn, there is a lounge, kitchenette and bathroom on the top of each building to be shared by the residents, giving them 360-degree city views. The apartments are a mix of one, two and three bedrooms and have varying layouts. They also have top-quality fixtures and fittings, a 2.7m high stud, heat pumps, double-glazing and decks. Bathrooms have floor-to-ceiling tiles and stainless steel vanity tops while the kitchens feature soft-close drawers and Fisher & Paykel appliances.
"Quality is the key thing for us," Mark says.
"If you build something that is good, people will come to expect that, and it will encourage other developers to do the same. We couldn't do something we're not proud of, and we're very proud of The Isaac."