11 Codrington Cres, Mission Bay
SIZE:
374sq m; land 890sq m.
PRICE INDICATION:
CV (2011) $2.45 million.
INSPECT:
Saturday and Sunday 2-2:30pm.
AUCTION: :
Satur4pm, Wednesday, November 6, on site (unless sold prior).
SCHOOL ZONES:
Kohimarama School & Selwyn College.
CONTACT:
Steen Nielsen 0275 578 336 or Ferne Butler 021 652 139.
FEATURES:
Spacious, five-bedroom fully renovated home with excellent flow on elevated site with great views, close to Mission Bay and shops.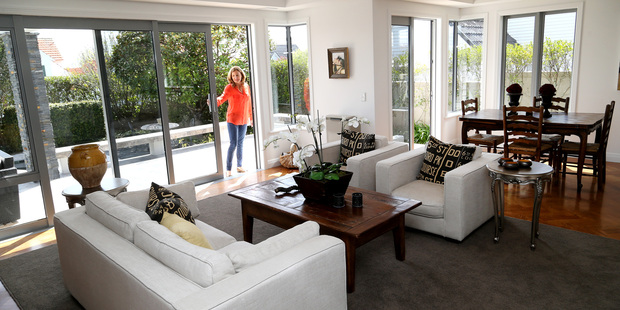 A house with an intimate family feel but enough room for everyone to have their own space - those were top priorities for Kim Owen when she was looking to buy 11 years ago.
Her three children, Matt, now 23, Nick, 21 and Libby, 18, were all pre-teens when Kim was taken by this Mission Bay house in 2002 because it reminded her of their former family home in St Heliers.
"The layout was perfect because the kids could feel close to the hub of the house but also do their own thing," says Kim.
Over the years, as they learned to drive, having a three-car garage and enough off-street parking for up to five cars also meant they never had to leave cars on the road.
The house is so well renovated and has such timeless, state-of-the-art fittings that it looks as though it is only a few years old.
Kim is not sure when the original house was built on its 890sq m elevated site in Codrington Cres but knows that the previous owner, a builder, extensively renovated it about 20 years ago.
His changes included laying American oak parquet flooring in the kitchen, dining room and family room and creating recessed ceilings with dentil detailing.
Kim has done several more improvements to the house over the past few years including installing a new kitchen and re-carpeting the formal lounge, bedrooms and large upstairs landing, which acts as a third lounge.
The house was re-clad about two years ago, with the plaster exterior walls replaced with weatherboard. Joinery throughout is now top-quality aluminum; all the windows and doors are double-glazed; and schist detailing has been added to patio pillars.
The home's layout, with the main living on the ground-floor level running along its north-facing front, is designed to maximise uninterrupted views across to Bastion Point and the Michael Joseph Savage Memorial Park.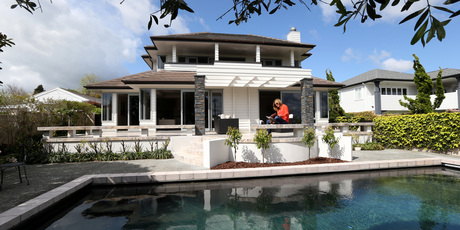 A large, rectangular, heated swimming pool, surrounded by marble tiles and formal planting, sits to this north side of the house in front of a broad paved patio and pergola on to which the living spaces open.
To the left of the central hallway is a large formal lounge with gas fireplace. This room opens through to the family room and open-plan kitchen.
To the right of the hall is a fifth bedroom, which doubles as a lounge or large office, and the formal dining room overlooking the back garden.
Also on this level are a large bathroom and a laundry, which opens to an outside utility area that catches the morning sun.
Upstairs are the mezzanine lounge, four bedrooms including the master and en suite, a third bathroom, separate toilet plus a wall of storage cupboards in the hall similar to a similar bank of cabinetry downstairs.
From a deck that opens off the master and the other north-facing bedroom you get a peek of Mission Bay beach, less than 10 minutes' walk away.
"I walk down to the village nearly every day and often walk up to Bastion Point," says Kim.
"It is a brilliant location because we so close to the beach as well as some great local restaurants and the movie theatre."
Kim says the crescent - which runs off Aitkin Ave, across Patterson Ave and down to Dudley Rd - is an excellent street to live on.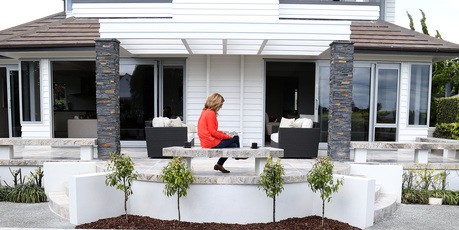 "It is very quiet because you only really get the cars of the people who live here."
Now that her two sons have left home and her daughter plans to study in Otago next year, Kim says the house is too big and she is keen to move into an apartment.
"It has been a great family home but it is just me and the cat now."