48 Hamilton Road, Herne Bay
SIZE:
Land 1631sq m, house 521sq m.
PRICE INDICATION:
CV $4.85 million (2011). For sale by negotiation.
INSPECT:
Sunday 3-3pm or phone for appointment.
SCHOOL ZONES:
Ponsonby Primary, Ponsonby Intermediate, Auckland Girls' Grammar, Western Springs College.
CONTACT:
Chris Batchelor and Andrew McAlpine, Barfoot & Thompson, ph 021 217 7026 (Chris) or 021 968 809 (Andrew).
FEATURES:
Luxurious home architecturally designed with covered verandas and loggia offering indoor-outdoor living. Private grounds include guest/nanny suite above garage, subtropical gardens and heated in-ground pool.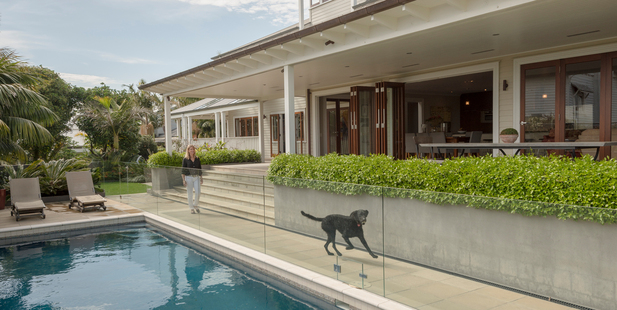 Hamilton Rd, on Herne Bay's northern slopes, favours homes of English heritage, but up a palm-lined driveway is a property with a far more tropical bent.
The Riddell family's big three-level home exudes a luxurious tropical vibe, from its resort-style double-height covered entry through to its copper-roofed outdoor loggia.
Physiotherapist Rebecca and her fund manager husband Richard were looking for a sizeable home that would accommodate four sons when they bought here in 2001.
A previous owner had inspired reinvention of the original bungalow.
Rebecca explains: "It had this real Pacific, kind-of Caribbean flair. And it had the six bedrooms which we needed."
After a few years' living here, the Riddells had architect Patrick Clifford of Architectus develop the property further. He improved the flow of the living areas, opening up the back of the house by combining rooms into an open-plan expanse.
His design continued the verandas and added the deep outdoor loggia to create a spacious outdoor entertaining area.
Rebecca says: "It's just got this lovely open, warm feeling to it. And it's northwest facing so there's just so much sun."
The house is set well back from the road. "We're down a long drive but we don't have neighbours looking in on us so we've got great privacy. And the sheer size of the property is unusual, especially as it's hidden away down here."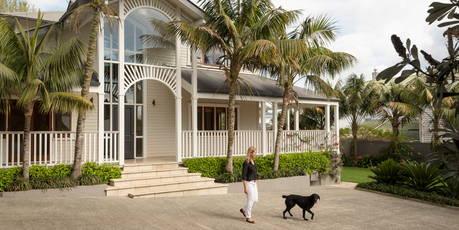 The family often have visitors to stay, so they built a garage topped with a guest/nanny suite. This is bolstered by lots of extra storage and a wine room. A covered walkway connects it to the main home, which is fronted by an off-street parking expanse - helpful for the Riddells' frequent entertaining. "We like entertaining and we've had some really good parties here."
The house is made of weatherboard, with cedar joinery and beautiful heart rimu flooring. The double-height covered entry incorporates contemporary fretwork reminiscent of sun rays.
The big hallway feeds three double bedrooms, which are supported by an en suite, bathroom and separate toilet, and runs into a lounge, used mostly by the boys.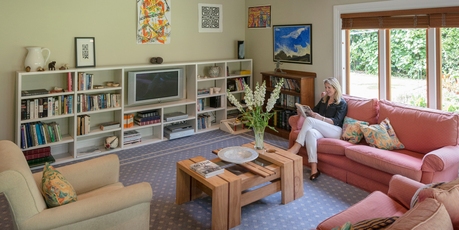 Another double-height atrium alongside the spacious kitchen-dining-family room is ideal for displaying art.
Everyone can gather around the long, granite-topped kitchen island. The lounge area, with wood-burning fire, a corner window-seat and cabinetry by Apartmento, opens to an outdoor entertaining area under the copper-roofed loggia and overlooking the gas-heated in-ground swimming pool. Rebecca says the pool was moved to this end of the property because "I wanted to be able to be in the kitchen and watch the children in it".
Suzi, the curly-coat retriever and cats, Window and Mimi, stroll across large level lawns. Keen gardener Rebecca loves the subtropical gardens, supplemented by a compact citrus grove and potager garden.
Upstairs, a wide passageway upstairs reinforces the home's spaciousness, linking three bedrooms, a bathroom, toilet and walk-in linen cupboard. One of these bedrooms is the master, with walk-in wardrobe, en suite and sundeck looking across to the Chelsea Sugar Refinery. Views of the harbour and bridge are even better from the upper-level study, from where the Riddells watched the Volvo Ocean Race yachts racing last year.
With just one son still living at home, the couple are downsizing, but moving only a block away. They've bought back the somewhat smaller home that Richard had when Rebecca first met him.