14 LOMBARDIA WAY, KARAKA HARBOURSIDE
SIZE:
Land 555sq m; house 196sq m.
PRICE INDICATION:
Properties in the area have sold for between $780,000 and $820,000. Auction September 10.
INSPECT:
Sat/Sun 2-2.45pm or by appointment.
SCHOOL ZONES:
Hingaia Primary School, Rosehill College, Strathallan Private Campus
CONTACT:
Petrina Webb, Bayleys, ph (09) 295 1191 or 021 677 233.
FEATURES:
Solidly built home with high stud, open-plan living and quality finishes, including a high-spec kitchen opening to outdoor areas.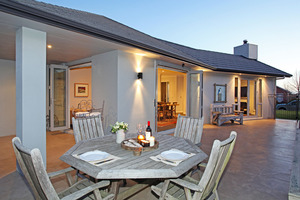 When it comes to houses, Fiona Wallace has a clearly defined sense of style, and admits she's not easy to please.
That explains why, when she and her husband began looking for an interim property to live in while they built their dream home, she looked at more than 100 houses all over Auckland before she found something she really liked.
"We're country folk and we came from a big, 350sq m country house, French provincial style," she says. "We'd lived in the country for years, but we had a piece of coastal land we wanted to build on and we knew the project would take at least two years to complete. So we decided to sell our place and rent to give us time to do it."
Renting, however, turned out not to be the best option, so the idea of buying an interim house took hold.
"As soon as I saw this property I knew it would work for us," Fiona says. "The location is perfect from a logistics point of view. "We have a business near the airport so this is really convenient, plus it's a minute to the motorway, five to Manukau and 10 to Sylvia Park.
There are no traffic jams and it's only 25 minutes to the Viaduct."
She was also mindful of the convenience of the area for the couple's two girls. Strathallan, one of southern Auckland's leading private schools, is nearby.
The quality of the construction was another point in its favour. It was built by a Kiwi builder who had designed it himself, and Fiona could see he had been really clever with the design.
"I immediately noticed the 2.7m stud, which gives the house a great sense of space. It's not a huge house but everyone who walks in here comments on how big it is," she says. "I think that's also because instead of trying to cram four bedrooms into the floor plan, he put in three big bedrooms and two bathrooms, and all the rooms feel really spacious."
The master suite has french doors to the garden, a walk-in wardrobe and a spacious, tiled en suite. The clever layout of the main bathroom offers a walk-in shower, separate bath and adjoining powder room.
But what excited Fiona the most about the house was the kitchen. Its sleek, simple design accommodates an unusual amount of soft-close cupboards which are virtually floor to ceiling, and plenty of drawers. There's a pantry which Fiona says is big enough to use as a study, and elegant stone benchtops and European appliances. "The bar easily seats four and it's open to the living areas so, again, great for entertaining," she says.
She attributes the appeal of the house to its high quality finish and "good bones". "When I walked in, I could see that all it needed was someone to sexy it up a bit," she laughs. She replaced the curtains and added country-style furniture and rugs. The dining table and chairs provide a focal point and are reflected in a large mirror. It also reflects the garden and outdoor living areas, which offer further entertaining space.
The family enjoys the opportunities for outdoor living around the Karaka harbourside.
"There are plenty of reserves and cycleways in the area," Fiona says. "I take the girls out on the cycleways most days and we love it."