Entry level option into the commercial property market.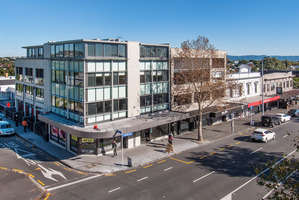 Three fully leased freehold units on the ground floor of a new, architecturally designed two storey building in Jervois Road in Herne Bay are ideal for smaller investors looking for entry level investment opportunities into the commercial property market.
The units at 158 Jervois Rd range in size from 42sq m to 61sq m and comprise two retail outlets and an office suite. They will go under the hammer separately from 11am on Wednesday, June 26 as part of Bayleys' latest Total Property portfolio at the agency's auction room at 4 Viaduct Harbour Ave, Maritime Square, unless they sell prior to the auction date.
"The property located on the corner of Jervois Rd and John St is a recent addition to the prime retail offering in the popular Herne Bay area," says Dave Bernard who is marketing the units with colleague James Chan.
"Completed at the end of 2012, this strikingly designed building, incorporating a combination of steel, glass, and exposed concrete panels, consists of three luxury apartments, three terraced houses, three ground floor offices, and two retail units," Bernard says.
"It's an impressive, high quality property that stands out in Herne Bay, providing one of the best modern mixed-use complexes in the area."
The two retail shops which are for sale have frontages onto Jervois Rd. The largest 61sq m outlet occupied by Meat on Jervois, a gourmet meat retailer, is producing annual net rental income of $44,500. "It offers quality products in an area previously short on specialty meat shops," Bernard says.
The unit has a six-year lease to Meat King Albany (NZ) Limited, with two three-year rights of renewal. It has built in rental growth, with two-yearly reviews based on the Consumer Price Index plus 1 per cent.
The other 56sq m retail unit is occupied by Janken, a Japanese cafe, and is generating net annual rental income of $39,200. Bernard says the cafe focuses on Japanese fusion cuisine which uses free-range and organic products in its meals and beverages. It has a three year lease with two three-year rights of renewal. The two retail tenancies come with one secure basement car park each with customer car parking also available along Jervois Rd and in John St.
The 42sq m office suite being auctioned has its entrance off John St and is occupied by John Childs Consultants Limited, a town planning and resource management company founded in 2002. It brings in net annual rental income of $18,200.
Chan says the units fall into the popular sub $1 million price bracket for investors looking for exposure to the commercial property market and are located in a prime spot in one of Auckland's most sought after locations.
"The building has a high profile with a coveted north facing position on a corner site in the heart of the Herne Bay commercial precinct," Chan says. This thriving area is well-regarded for the high quality of its retail businesses that match the status of the surrounding residential properties."
On offer
Properties: Two retail and one office freehold units
Where: 158 Jervois Rd at corner with John St
Agents: Dave Bernard & James Chan, Bayleys Auckland
Sales method: Auction, Wednesday June 26, 11am..
Features: Fully leased, high profile corner site.