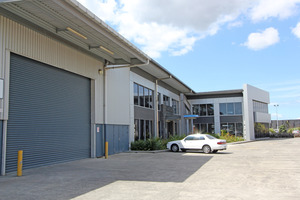 High-quality industrial offering on large site allows for warehouse extension CBRE has released its latest Industrial Property Connector publication with a range of industrial properties for sale throughout Auckland that are expected to be keenly sought after on a supply-starved market.
Among the premium properties is an industrial complex at 11 Vogler Drive in Wiri, comprising 1589sq m of office space and 3490sq m of high-stud warehouse which is being marketed for sale or lease by private treaty through sole CBRE agents Claus Brewer, Tim Boyle and Scott Soroka.
"This is a near-new, high-quality industrial offering on a large and well-located site with strong underlying real estate fundamentals," Brewer says. "It also allows an owner to add approximately 4000sq m of warehouse space on surplus land within the boundaries of a 1.6ha site."
Boyle says its frontage to Roscommon Rd gives it excellent motorway exposure. He says the site is under-developed, with the surplus land offering options to split the existing facility to meet a wide variety of operational requirements.
"The 2600sq m sealed yard complements the building's canopy and provides excellent truck access and heavy-duty gantries, and the property also has easy access to the motorway system, Auckland Airport and Manukau's commercial centre."
Boyle says two other quality industrial properties on offer in the publication are 89 Richard Pearse Drive in Mangere and 12 Ha Cres in Wiri.
"These two are also well-positioned to take advantage of the market trends, offering modern, high-stud warehouse and office space."
David Arlidge, associate director of CBRE's South Auckland office, compares 11 Vogler Drive to a recently sold industrial property at 40 Paisley Place, Mt Wellington, which was purpose-built for Bridgestone Firestone Tyres and then became the film studio for the making of the third series of Spartacus: War of the Damned.
He says the two properties are very similar with comparable office and warehouse components but Vogler Drive has the added benefit of additional developable land.
"The Paisley Place complex, which is now home to Ateco Automotive NZ and Fiat Chrysler NZ, drew significant industrial occupier interest.
"It proved to be exactly the sort of property the market is seeking right now - a high-quality warehouse with office components.
"The sale process generated considerable unsatisfied inquiry, which is a reflection of the strengthening market. Demand is far outstripping supply and prime stock is particularly short. There is a genuine lack of investment-grade property in good industrial locations."
Arlidge says he is now seeing rising levels of investor interest in partially or even fully vacant buildings.
"Although investors are factoring in the cost of leasing in their calculations, they are now considering this type of stock because it is so hard to find and buy the right investment grade assets.
"It has got to a point where investors are even prepared to look at buildings with two to three years left on their leases, which in my experience is unprecedented.
"Potential investors are prepared to take some re-leasing or retention risk, as long as the property's fundamentals are right and the asset presents a generic, typical office-to-warehouse ratio."
Arlidge's comments reflect the content of the foreword to CBRE's Industrial Property Connector which notes that: "Throughout Auckland there is increasing demand for quality investment-grade industrial property with investment intentions currently registered exceeding $500 million."
Boyle says the Wiri industrial zone is the fastest growing commercial zone in Auckland, with the large Manukau labour force on the doorstep.
"The access to the State Highway 1 and State Highway 20 motorways linking to Auckland Airport and West Auckland has dramatically improved the area's ability to provide logistics and manufacturing companies with ready access in all directions."


Industrial properties
What: New industrial portfolio
Source: CBRE's Industrial Property Connector
Feature properties: 11 Vogler Drive, Wiri; 89 Richard Pearse Drive, Mangere; 12 Ha Cres, Wiri
Foreword comment: Fierce buyer competition for prime properties