Residents worried about health issues from gold extraction and not being able to sell homes.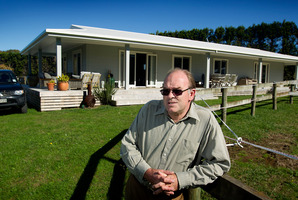 A decision granting a company permission to mine beneath the eastern part of Waihi has left those on the other side of town worried they could be next, a residents group says.
Newmont Waihi Gold was yesterday granted resource consent to build its Correnso mine below a section of eastern Waihi, but did not receive permission to mine a wider area the company had proposed as its Golden Link Project Area.
The company says the activities would pump hundreds of millions of dollars into the economy and sustain employment for hundreds of staff for years longer.
But some remain worried over the effects that mining beneath them would have on their homes and health, and also fear diminished property values will prevent them from being able to sell.
Collette Spalding, who lives on the west side, felt the decision had also set an alarming precedent that could eventually see mining come to her neighbourhood.
Her group, the Distressed Residents Action Team, had fought Newmont's plans to build the Correnso mine and to explore for minerals beneath its open-cast Martha mine at separate hearings last year.
"I'll never give up, but I'm tempted to get the house sold while there is no mining over here and while it's presumably at its peak value," she said yesterday.
Exploration company Glass Earth holds permits for exploring for minerals in central and western Waihi, but it would be Newmont Waihi Gold that would likely go ahead with any activity. A Newmont spokesperson said there were no mining plans for those areas, although he could not rule that out in the future.
Meanwhile, a spokesman from another group, Waihi East Ratepayers Group, said a meeting would be held next week to discuss the issue.
One Waihi East resident who asked not to be named said of her neighbours: "Their equity has been destroyed. Their ability to move on with their lives has been destroyed.
"Unless we see a different commitment from the company to truly compensate people, then it's not a good thing at all."
In granting the consent, the commissioners said while the positive effects of the proposal were "significant", the biggest adverse effect was vibration.
Newmont Waihi Gold general manager Glen Grindlay said an independent review panel had recommended the company buy seven homes in the Correnso area at a cost of around $2 million, with the same amount again yet to be spent.
The company had also funded local primary school and preschool facilities, top-ups for property purchases and insulation for 270 houses, and had also committed $400,000 for Waihi East residents to spend on community amenities.
Homeowner fights agency
One Waihi East resident hopes his battle with a real estate agency over the purchase of his property will produce a positive for locals facing house value losses.
The Real Estate Agents Authority is investigating a claim by Rob McCarthy that he was not told there were any issues with mining when he bought his Mataura Rd property in 2010.
PGG Wrightson has said an internal investigation revealed no wrongdoing by the agent concerned.
At the time of sale Mr McCarthy said he did not know Newmont Waihi Gold had already signalled its permit to mine below the property. He and his wife had since spent more than $400,000 developing their new home, on top of the $660,000 they paid for it.
Mr McCarthy expected the process to take some time. He said, "My desired outcome is to offset the potential loss here on to someone else."