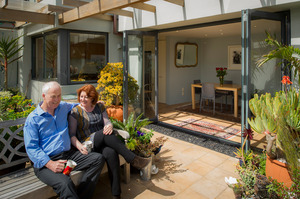 North Shore MP Maggie Barry's waterfront home in Pt Chevalier has sold at auction for $1.41 million.
The Herald can also reveal that the former gardening show host and her partner, Grant Kerr, have bought a property in Stanley Bay so they can move into her North Shore electorate, where she says she wants to "represent her constituents effectively".
The Pt Chevalier property - a four-bedroom 1990s stucco house at 96a Harbour View Rd - sold below its valuation of $1.71 million.
Mr Kerr, a former lawyer, watched the bidding from the back of the Bayleys auction room and congratulated the new owners before popping a bottle of champagne and phoning Ms Barry, who was in Wellington, to tell her the result.
Of the sale price, he told the Herald: "It's fair. I think that within the $500,000 to $1.2 million range, property prices are hot as hell. But above that, it's a bit more stable."
Ms Barry bought the property in 2000. The couple will move into their new home at Easter.
The new owners are Gavin Black, 43, an engineer, and his wife, Vanessa, 41, an accountant.
They told the Herald that on Sunday, they were playing on Pt Chevalier beach with their two daughters when they saw an open home at Ms Barry's property.
Bidding started at $1.2 million and it was a one-horse race. The price was settled later. The Blacks had made offers on six other homes but missed out. "There was always someone else offering a bit more, but today there was no one," Mr Black said. Alanah Eriksen