347 HIBISCUS COAST HIGHWAY, OREWA
SIZE:
Land 997sq m, house 260sq m.
PRICE INDICATION:
Orewa beachfront homes have sold recently for $1.9 million-plus. Auction February 27.
INSPECT:
Sunday 11-11.45am.
SCHOOL ZONES:
Orewa North Primary School, Orewa Primary School, Orewa College.
CONTACT:
Karen Clark, Bayleys, ph (09) 815 4233 or 021 355 284.
FEATURES:
Split-level block and cedar beachfront home on flat quarter-acre at Orewa, a half-hour drive from Auckland's CBD, and a short stroll from shops, cafes and restaurants.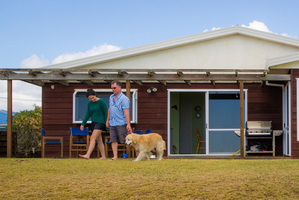 There's a bit of subterfuge surrounding the Mackenzie family house on the beach at Orewa.
The late family patriarch, Bill Mackenzie, bought the waterfront section on the sly in the early 1990s.
He was a bit of a joker, so when he came home to Epsom to announce the purchase to his wife Mary and their four grown children, they didn't know whether to believe him, especially when he revealed he'd let his adored German shepherd make the winning bid.
But bought it he had. To be fair, the family had already been looking for a plot of land around Whangaparaoa, planning to build a holiday home.
With four children and four grandchildren (and seven more to come), the family caravan wasn't going to cut it any more.
Bill evidently figured the flat quarter-section within metres of the waves, set back from the road and within strolling distance of Orewa's shops and cafes, didn't require a second opinion.
Bill, former managing director of building company Neil Homes and founder of Bike Barn, roped in the family to help him build a three split-level home, with four double bedrooms upstairs, a rumpus room and double garage downstairs, and the living areas in the middle, with a huge picture window to frame the hypnotic sea view, and sliding doors to the deck, lawn and beach.
For more than a decade, the house served as the quintessential holiday home.
Bill and Mary, successive German shepherds and their budgie, Barney, would drive up every weekend and holiday, and their children and grandchildren would come and go.
Bill would take his little boat out fishing and the kids would kayak and swim out the front, or bounce on the trampoline on the big, flat back lawn.
At Easter, the family would gather at the property for egg-rolling - a nod to Mary's Scottish heritage - and return for Christmas, New Year and family birthdays.
And then came Bill's second bit of subterfuge, though the family jury's still out on how premeditated it was.
About 10 years ago, he and Mary sold their Epsom home and looked to downsize.
Since they couldn't immediately find a replacement property, Bill suggested they move temporarily into the holiday home and put Mary's prized furniture and ornaments in storage. But after a year in Orewa, and after Bill bought a commercial property with the proceeds from their Epsom house, it became clear he had no intention to move back to the city.
He loved tinkering in the garage, watching the beach action from his favourite chair in the lounge, and walking his dog daily along the sand and around the Orewa estuary.
He was still heavily involved with Bike Barn and worked from the house until his death in 2007 at age 75.
"He found it very relaxing and peaceful here," says his daughter, Wilma Lambdin.
It was a long time before Mary got her furniture back, and she's still unimpressed about the loss of a favourite bread bin that vanished into storage and never reappeared.
Now 80, Mary is moving to a retirement village in Remuera. She says she'll miss having the family to stay and being able to walk to the shops, but she's looking forward to finally resuming city life.
The family are sad to farewell the house, but know it's the best move for Mary.
"I hope a family buys it and has good memories here like we've had," says Wilma.