28 STANLEY POINT RD, STANLEY BAY, DEVONPORT
SIZE:
Land 1609sq m, house approx 550sq m.
PRICE INDICATION:
The current GV for the property is $3.3 million. Interest is expected around or above this level. Tender closes 4pm, December 6 (unless sold prior).
SCHOOL ZONES:
Stanley Bay School, Belmont Intermediate, Takapuna Grammar School.
CONTACT:
Victoria Bidwell, Bayleys, ph 021 947 080 or 487 0735.
FEATURES:
Privately located renovated villa with all-day sun, views over Ngataringa Bay and sea access. Four living areas, master suite and landscaped gardens including solar-heated pool.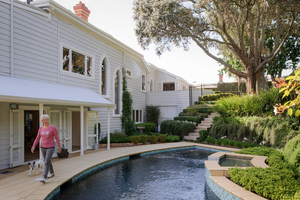 A "completely magical spot" has continued to delight Marilyn and David Allard well after their children left home.
This stylishly restored villa with wide views over Ngataringa Bay makes a superb family home, with its wealth of living space, sun-drenched grounds with pool and easy access down to the bay.
Marilyn says she and David initially thought they'd be here until their two sons moved on, but that milestone came and went and they've now been happily ensconced for more than 20 years.
"It's been a fabulous house. It's private, it's quiet, you get all-day sun and very little wind. And this position looking out on the bay is just lovely," she says. "There are not many people who come here, see the view and don't say 'wow'. We've just not really been able to let go of it until now."
Jack Russell Woody is elderly now but, like the rest of the family, he's enjoyed the property's easy sea access. Number 28 is tucked away off a shared driveway and enjoys the use of nearby steps linking the end of that driveway with the water.
"My husband windsurfs and Woody would go behind him on the windsurfer with his little life-jacket on." As teenagers, Simon and James loved kayaking and sailing a family catamaran.
Nearby, Stanley Bay's commuter ferry gets university students and central-city workers downtown within 15 minutes.
Marilyn's eye for design (cultivated with Sylvia Sandford design courses) and her painting and gardening skills have honed the home indoors and out. When they bought here it was a not-quite-complete renovation with minimal landscaping.
A mature magnolia and oak soar above layered planting around the property's entrance, hinting at its gorgeous grounds. An old photo, gifted by grandchildren of previous long-term owners, shows the predominantly kauri villa retains much of its original 1890s character. Subsequent owners extended it, excavating to develop garden-level rooms and adding a wing with internal-access double garaging downstairs.
Front steps access the wide, covered veranda looking down on a shaped buxus "knot" garden. The entrance hall highlights dark-stained kauri floors, grounding a distinctly light and airy interior.
Concertina windows maximise the outlook over the bay from the north-facing kitchen/dining/family room, with beautiful terrazzo kitchen benches and extra-wide oven. This room, and a bedroom used as an office, open to a covered corner veranda, which admires the sort of vista inlanders dream of.
"It's a real micro-climate here. We can sit on that veranda, there can be a howling southwesterly, you can see white caps in the bay and we're totally sheltered here." A long sitting room harbouring one of three fireplaces epitomises modern elegance.
A huge family room used to be a bit of an ugly duckling where the boys were allowed to play cricket. It's at the end of a corridor offering a bathroom, study/sewing room, wine cupboard in an old coal-range's brickwork and two flights of stairs to the garden level. Marilyn painted over the room's pine cathedral ceiling and pea-green walls, creating an uplifting white-hued room with library wall, flowing out to a rear entertaining deck.
Downstairs, the master bedroom with en suite and its own patio joins two other bedrooms, a bathroom, and tiled living space opening to the shelter of wide eaves next to the pool. Landscaper Robin Shafer designed the solar-heated pool, which is backed by a tiered garden wall.
Uniformly lovely grounds incorporate level lawn, a lush vege patch and a fountain echoing the shape of stairwell cathedral windows. Marilyn says the layered hedges means it's pretty easy to maintain - important as the couple also spend time at their Wanaka property, which they'll keep while downsizing in Auckland.