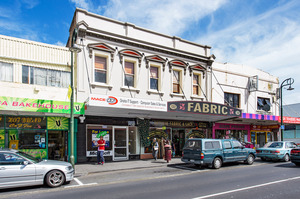 An Onehunga two-storey building with a net lettable area of 773.27 sq m and comprising seven tenancies is being marketed for auction at the end of this month.
The property at 130-132 Onehunga Mall is being offered by Brennan Wyllie of Barfoot & Thompson Commercial and will be sold at 1pm on Thursday, November 29, at Barfoot & Thompson's City Auction Rooms, 34 Shortland St, unless it sells prior to that date. Occupying two land sites of 318 sq m and 166 sq m, the building covers the full area with a veranda over the footpath.
"The property forms part of the established Onehunga commercial centre which comprises mainly older two storey premises," Wyllie says. "Most of these buildings were built in the 1920s and 1930s and provide ground floor retailing, upper front offices and living accommodation.
"This building is located on the western side of The Mall, just to the north of its intersection with Princes Street at the southern end of the commercial area and just north of the Police Station. It has excellent road profile with good advertising exposure and is handy to most amenities and public transport, as well as having ready access to many of Auckland's major traffic routes including the State Highway 1 and south-western motorways."
The Business 2-zoned property was originally constructed in the late 19th century and was extended in the early 1970s to cover the entire footprint of the two underlying titles when the original Queen St became the pedestrian-only Onehunga Mall.
At this time an agreement was entered into between the owner of the property and the Onehunga Borough Council (later to be absorbed into Auckland Council), that granted the building dual street frontages that it still benefits from today, with warehousing and two further shop frontages fronting this rear portion of the property.
The seven rentable areas of the building comprise three retail tenancies, one office, one warehouse and two residential properties.
Commercial tenants include Send-a-Basket Florist, Antique Fabric & Lace and Computery Stuff. The smaller of two apartments is a large 84.89 sq m configured as three bedrooms. The larger completely redecorated apartment is also configured with three bedrooms and measures 93.55 sq m.
"With the exception of the long-standing Fabric Store tenancy the building has been refurbished throughout," Wyllie says. "The other ground floor tenancies occupied by Send-a-Basket and Computery Stuff have been completely refitted and modernised. The plumbing and drainage have also been renewed with only an original portion of primary cooper piping remaining and the exterior facades of the building have been carefully repainted by JR Webb Painting Contractors in colours recommended by Resene Heritage.
"All building works were completed under one Building Consent for which Code of Compliance has been issued."
Wyllie says the building's Business 2 zone recognises traditional suburban retail areas and has a wide range of permitted activities in this zone including: care centre, community welfare, educational facility, funeral parlour, healthcare services, laboratories, industry, offices, place of assembly, premises for cultural activity, residential units in existing buildings, restaurants and cafes, retailing, warehousing and workrooms.