1 Dilworth Terrace, Parnell.
SIZE:
Dilworth Terrace's total land area is 5486sq m, with each property having exclusive use of private courtyards and gardens. House 356sq m.
PRICE INDICATION:
CV $2.25 million. Auction November 4.
INSPECT:
Sunday 1-1.45pm or by appointment.
SCHOOL ZONES:
Parnell School, Auckland Grammar and Epsom Girls' Grammar.
CONTACT:
Linda Galbraith, Ray White Broadway, ph 021 966 028.
FEATURES:
Beautifully restored three- level Victorian townhouse, available for the first time as an individual home since construction in 1899. Set in park-like grounds with sea and city views.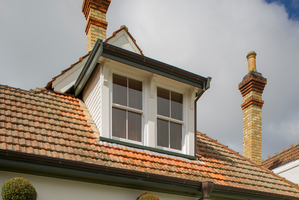 Alison Ellison jokes that when she married her architect-husband Don in 1971, she "also married Dilworth Tce".
After all, Dilworth Tce, a landmark row of eight terrace homes in Parnell, has been part of Don Ellison's life for nearly half a century. It's thanks to him that a valuable part of our city's built heritage is still here and thriving.
Designed by architect Thomas Mahoney, who also designed Auckland's Customhouse, Dilworth Tce was built in then-seaside Parnell in 1899. The terraces were sought-after homes for Auckland's well-to-do, but as land below was reclaimed and soot from coal-fired trains sullied the air from about 1919, Dilworth Tce deteriorated into a slum, filled with overcrowded tenement flats, sly grog shops and brothels. Some estimates say that after World War II, there were up to 300 people living there in cramped conditions.
When Don saw Dilworth Tce's then-decrepit dwellings in 1965, it was not love at first sight. "What a depressing dump! I asked myself why I was there," he recalls. He had recently moved to Auckland from Tauranga, where his practice, Ellison Acheson and Stewart, had been based.
The firm had come second-equal with the late Peter Bevan to Warren and Mahoney's winning design for the Christchurch Town Hall.
Asked what made him start and carry on with such an ambitious project in Auckland, Don says it was "a certain amount of 'ignorance is bliss".
"Sometimes you don't know how deep you're getting into things. Once you start you just have to continue," he adds. Dilworth Tce was then zoned for heavy industry, but Don saw that despite it not being painted for more than 50 years "it was a magnificent building with hardly a crack". He acquired the leasehold interest from the Dilworth Trust and set about turning the squalid accommodation into 28 renovated apartments. "It was always more of a restoration than a development," says Don, who had Thomas Mahoney's original plans to work with as an invaluable reference.
When Alison and Don married, Alison left her job as a school dental nurse and "started her apprenticeship at Dilworth Tce". Alison joined Don, as well as a professional builder and Don's right-hand woman, tenant Grace Papata, to get stuck into laying lino and carpet, painting and barrow-loading concrete. Alison says at that time Parnell seemed to be on the way up again, thanks to people like Les Harvey, the developer of Parnell Village. Don jokes that he "had virtually sole rights to demolition yards before Les came in. He bought in bulk - I could only manage one or two window frames".
Don and Alison lived in the attic flat of house No 5, with daughters Kate and Sally joining the family in 1973 and 1976. Wanting a more suitable base for family life, in 1977 the Ellisons bought a house in Remuera and lived there for 20 years. All the while, work at Dilworth Tce continued.
After Dilworth Tce became registered with the Historic Places Trust, Don acquired the freehold interest and set about on another round of renovations - this time restoring the eight terraces into individual homes.
The houses have all been sold along the way, apart from Nos1 and 8, which the Ellisons retained. After leaving their Remuera house, Alison and Don lived in No 8 for five years, before moving into newly renovated No 1. Now it's time to leave gracious No1, an elegant home with aristocratic looks that give no hint of its at times sordid past. The Ellisons are not moving far though. It's not yet time to cut ties with Dilworth Tce - they're moving to No 8.