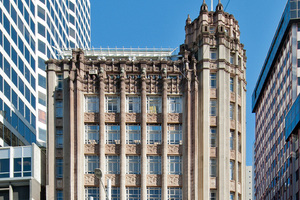 A fully-tenanted, strata-titled office floor in the ornate Art Deco Landmark House, one of Queen Street's most distinctive heritage buildings, is for sale.
It is being offered in Colliers International's National Portfolio publication.
The nine-level tower building at 187 Queen St was built in 1930 to house the Auckland Electricity Power Board's head office. It has been extensively refurbished and seismically strengthened.
The 433sq m fourth level is occupied by an established multinational medical software business which pays $123,405 net in annual rent.
The floor title is being marketed for sale through John Davies and Charlie Oscroft and will go under the hammer at 11am on June 13 at Colliers' offices at 151 Queen St, unless sold earlier by private treaty.
John Bowring, Colliers national auction manager, says the title presents an excellent opportunity to acquire a commercial property investment in the heart of Queen St. "Opportunities to secure a full-strata office floor of this quality and profile are rare in the CBD, and the investment represents a hassle-free commercial holding owing to the building's well-managed body corporate."
Davies says Landmark House was one of the tallest structures in Auckland when it was built, and remains one of the most striking heritage buildings in New Zealand. "It was the first building in the city to be floodlit and its lift was proclaimed to be the fastest in the country," he says.
"A refurbishment in 2000 created very high-quality office accommodation throughout the building's upper levels, with level four again renovated in 2007 combining the character features of the floor with a modern design," Oscroft says.
Landmark House is a Historic Places Trust category one building. Designed by Bartley and Wade Architects, it was built to provide a grand, imposing presence on Queen St at a time when electricity was coming into its own.
"The building was designed in a self-consciously modern style for its time, ostensibly as an advertisement for the AEPB, which was the sole provider of electricity to the isthmus and was keen to mark the dawning of a new era," Oscroft says.
"Exterior features such as tall half-columns and a corner turret make the building appear to soar into the sky, giving the impression of a mini-skyscraper. Period details include steel-framed windows, a pressed cement facade incorporating details such as gargoyles, and decorative plasterwork on the lobby ceiling."
Landmark House was opened on the same day as the hydroelectric dam constructed by the Public Works Department at Arapuni in the Waikato. It was also a celebration of national pride, with New Zealand motifs being incorporated in the interior decoration (which were preserved in the 2000 renovation) and local firms preferred in its construction.
The modern fit-out means level four has full services, including air-conditioning and security, with open-plan and partitioned office areas. Davies says the office space is very flexible and could be partitioned to accommodate multiple tenants. "Level three was broken up into smaller offices and these were fully leased earlier this year. The building's central location, within easy walking distance of Shortland St, the District Court and public transport mean it suits a wide variety of professional tenants such as legal, accounting or recruitment firms."
Direct access to an adjacent car-parking building is provided from level four.
The tenant occupying the fourth floor is one of the world's largest providers of specialist IT solutions and is part of a global technology group, following an acquisition in July 2011. It is a Fortune 500 company which operates in 90 countries. The tenant holds a three-year lease expiring in June 2014. At the time the lease was signed, the global policy was to sign three-year leases only.