22 HARBOUR VIEW DRIVE
SIZE:
Land 579sq m, house 243sq m
PRICE INDICATION:
CV (2011) $1.64 million. Auction May 15, 2pm on site.
INSPECT:
Sat/Sun 1-1.30pm
SCHOOL ZONES:
Pt Chevalier Primary, Pasadena Intermediate, Western Springs College.
CONTACT:
Wayne Bulog, UP, ph 361 6479 or 021 272 3557
FEATURES:
Renovated and extended home overlooking upper harbour at Pt Chevalier. Large living space, entertainer's kitchen, ample deck space. Office space with separate entrance. Handy drive to CBD, close to cafes, schools and walkways. Double garage plus one off-street park.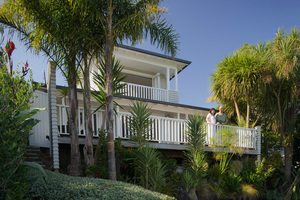 Selling their bach to buy this desirable home near the water's edge is a sacrifice Janet and John Clark have never regretted making.
"It was a good call," says Janet. "It has a lovely at-the-beach feel about it." John especially has loved unwinding as he drives back to Pt Chevalier from working in the city.
The Clarks also appreciate Pt Chevalier being within easy reach of the city, having great schools and cafes within strolling distance and there's a choice of walking routes up to Coyle Park, the harbour or to Meola Reef Reserve.
And Janet remembers how John went to the open home at 22 Harbour View Drive in 2005 and was very clear this was the house he wanted to live in, even announcing to the man next door; "I'm your new neighbour. We'll be buying this house at the auction."
The bungalow was built in the 1930s, with the substantial extension added by the owners before the Clarks moved in.
The original section of the home sits at the street front, with a front bedroom used as an office. "Its separate entrance means you don't have to worry about people walking through the house," says Janet.
There's a second bedroom with a classic bay window seat, and then another bedroom, plus bathroom. Midway through the home is the lounge and stairs where new and old marry, with recycled timber to match the original flooring for the steps to the large open-plan living area and kitchen, and bifold doors opening up to the suntrap deck.
Another set of stairs leads up to the master bedroom with en suite (a lovely touch is the privately positioned shower with full-length window looking out to the garden) and balcony with a view across the upper harbour to Te Atatu Peninsula and the Waitakeres.
"This bedroom has been fabulous," says Janet. "It's so private and at night it's like upmarket camping because you can lie there and listen to the waves lapping on the shore.
"And we get such fabulous sunsets. We have so many sunset pictures but we're always rushing off for the camera to take another shot."
Janet and John regularly open up their home to entertain family and friends, adding a marquee for shelter on the deck and turning up the music through the Bose outdoor speakers.
"It is such a good party home having this huge area and the wonderful big kitchen. We have had my husband's 60th, my mum's 80th and family Christmases here."
The couple lived here for two years, before working in the Middle East for four years when the house was rented out to two different families, both with four children. "It is a home that easily accommodates a good amount of people," says Janet. "But we couldn't wait to get back into this house while we were in the Middle East, living in apartments. That kept us going when we were in the desert."
Now they are selling the home they yearned for when they were overseas.
Why? Well, says Janet, she and John have always dreamed of having a piece of land for their retirement years. And recently they spied exactly what they were looking for on 6ha at Kuaotunu on the Coromandel. Janet says they deliberated whether they should wait a few years for a similar opportunity but, in the end, they thought, "Damn the torpedos! So we are aiming to get to Kuaotunu. We've signed up for it and we just need to sell this home now".
They are looking forward to being in the country and having a larger piece of land. "And we may even get a dog because, when people find out our names are Janet and John, they always ask us if we have a dog named Spot! We might just do that when we get to Kuaotunu!"