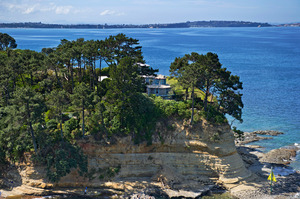 At well over $2 million, it could be New Zealand's most expensive bach - but the glorious untouched headland it sits on makes it worth the hefty price tag.
The undeveloped 3369sq m property on Auckland's North Shore is a rarity and one of the agents selling it said interest in the Torbay headland had been high.
With inner-city properties reaching record highs, most interest had been from people looking for a city escape close to central Auckland.
The only building on the property was a one-bedroom timber lighthouse modelled on the iconic "Bean Rock" structure in the Hauraki Gulf.
Carl Madsen, from Barfoot and Thompson, said most interest was from people who would build a substantial family estate.
"There is nothing like this left in Auckland," said Madsen. "It has stunning 180 degree views across Devonport, Rangitoto, Rakino and through to Tiritiri Matangi.
You are 17 minutes along the motorway to Auckland City but it is like you are in the middle of nowhere."
The deceased estate had been in one family since the 1960s and they described summers spent "bathing in the spa-like rock pools, playing sea monsters in the cave and exploring the wonderful reefs". It has a current CV of $4.5 million.
While Auckland prices have topped the highs of 2007, revealed in figures released this week, the same cannot be said for properties outside the city.
The land in Torbay is in stark contrast to Cable Bay, Northland, where a 1210sq m beachfront property is on the market for $200,000-plus.
Receivers for the property have an Auckland, and local, estate agent on the job in the hope of generating interest from buyers outside the Northland town.
"Auckland is in a bubble at the moment but it is not the same for the whole country," said Albert Slack from Barfoot and Thompson.
The price being asked is likely to be deceptive though - it's a receivership sale and the CV is actually $790,000.
Meanwhile, the green light has been given for Marsden City - a major commercial development including residential apartments, a tertiary institution and hospital in the coastal town of Ruakaka.
North Holdings director Oliver Scott said the company had poured $75 million into the development, 30km south of Whangarei, and would create 4400 jobs.