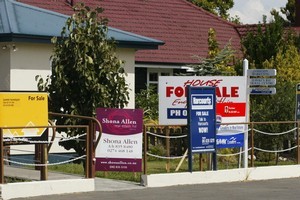 Fix or float? Depends who you ask. File photo / APN
Westpac economists have renewed their advice to home borrowers to fix their mortgage interest rates now because interest rates can only rise from here as the Christchurch rebuild starts putting inflationary pressure on the economy.
Westpac's chief economist Dominick Stephens says fixed interest rates for terms of two to four years make most sense, but his counterpart at the ANZ Bank, Cameron Bagrie, says it's still too early to call, with risks to economic recovery outweighing the impact of a Christchurch-driven building boom.
The difference boils down in part to expectations about the timing of any increase in the Reserve Bank's official cash rate, which is currently at a historic low of 2.5 per cent and is not expected to fall any further, even if the European debt crisis triggers another global financial meltdown.
While the Reserve Bank is expected to leave the OCR untouched at its quarterly update next Thursday, Westpac sees the rate rising by the end of this year, and heading up more sharply than many financial market participants expect.
That's based on an expectation the construction industry will struggle to meet demand, fuelling inflation in 2013 and 2014.
The Overnight Swap curve sees 23 basis points of increases in the OCR over the next 12 months.
Other forecasters, including the New Zealand Institute of Economic Research quarterly forecasts released this week, anticipate no move in the OCR before mid-2013 because of ongoing weakness in the domestic economy.
Westpac's Stephens cites the "rush" of borrowers who sought low fixed interest rates in 2009, which led to a sharp rise in rates caused by strong demand.
"It's not a howling call to say rates are rising. You could say 'why not wait'?" said Stephens. "But that makes you part of a large group of people waiting to rush through the same small exit at the same time. If you really think you're nimble then by all means wait, but if you're a mere mortal, it might be worth swallowing a few basis points now" and fixing at current low rates.
However, Bagrie said risks to the New Zealand economy remain significant, and fixing rates for any longer than two years was difficult to justify.
"At the moment, it's a marginal decision," he said. "From a cash flow perspective, there's not much of a difference between floating and two-year fixed."
ANZ and Westpac mortgage interest rate offerings show significantly different options for borrowers at present, with ANZ's floating rate of 5.74 per cent significantly lower than Westpac's 6.24 per cent rate, as shown on the Interest.co.nz website.
However, Westpac's two- and four-year fixed rates of 5.79 per cent and 6.1 per cent respectively are the same as those offered by ANZ.
Stephens said Westpac had been advising since last November that fixed rates made increasingly good sense, but that there was no urgency.
"As it turns out, floating mortgage rates have remained low and fixed rates have fallen, so floating was indeed the best strategy. But the balance of risks has changed over the past few weeks" with swap rates rising sharply this month.
"If these higher swap rates are sustained - and we think they will be - fixed mortgage rates will at least stop falling, and could even begin to rise. That makes now a very good time to fix," said Stephens.
But Bagrie said "there still seems to be more downside than upside risk for the economy."
"I wouldn't be in a mad rush to get locked into a higher rate. If interest rates are moving up, it will be because the economy is on a stronger footing. That's the central scenario, but it's far from guaranteed. I would encourage people to be careful."