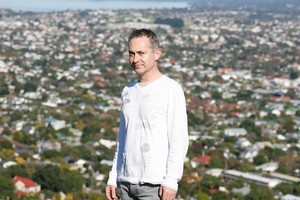 A former high-flying property guru, author and housing investment advocate has turned his back on an Auckland life, joined tent protesters in Dunedin and now is selling a board game he invented.
Kieran Trass, who wrote books on how to get rich in real estate, is quitting the entire stock of 1200 games for a minimum $5900.
The educational real estate game is advertised as designed to teach property investors the progression of the traditional market cycle. Trass says the game is equivalent to 20 years' property investment experience in a box. It is advertised as offering what Trass learned from analysing thousands of property investors' portfolios over the last 20 years.
"The game is primarily driven by Trass' trademarked Property Clock, which reflects the traditional property cycle. In just a few hours, players experience how the property cycle typically impacts over the long term on their ability to build a property portfolio. Experience learned in the game can be applied in real life," the ad says.
Trass told why he was selling the game and explained how his life had changed dramatically since he lived in Mt Eden and how he was involved in the movement attempting to clear the name of the late Allan Hubbard, South Canterbury Finance's former chairman.
"These days I am more focused on community-based efforts and efforts to expose the corruption we found as a result of trying to support Allan Hubbard whilst everyone else was sabotaging his wealth and reputation.
"I'm sure you know what I mean, as many people in the business world know that he was targeted for his wealth but, of course, no mainstream media want to start talking about that story; it runs too deep and too far into the corridors of power.
"My life is now set upon seeking truth and exposing it. I am also heavily involved with the Occupy movement here in Dunedin where I live.
"Change is certainly afoot," Trass said.
He has worked for more than 20 years in banking and lending, first at the Bank of NSW, including a two-year stint in Australia, then a Lion Nathan-owned finance company and Citibank.
Then he established the Hybrid business which had a number of arms, selling advice to investors, collecting market information and statistics, holding seminars and workshops and offering education to landlords.
He wrote Grow Rich from the Property Cycle but was sceptical about the sector's fortunes, drawing criticism last decade, including from the Real Estate Institute, when he predicted a big price downturn.
In 2005, he said prices in Auckland, Wellington and Christchurch would have fallen 5 per cent by 2007 because those cities had not had big value rises. By 2009, he was running a seminar in Remuera, advising people on how to take advantage of the crash.