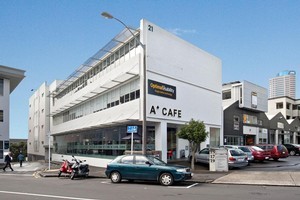 This three-level, 723sq m building comes with 12 parking spaces and is located in Auckland's popular Victoria Quarter.
A stand-alone office building like this is a bit of a rarity and makes a very affordable alternative to owning a single office floor.Nigel McNeill, Bayleys Auckland A small, stand-alone freehold office building, one of a diminishing number left in Auckland's CBD, is up for sale, with the entire top floor of 241sq m of open-plan space available to an owner-occupier.
The three-level, 723sq m building, which comes with 12 on-site parking spaces on a 547sq m site at 21 Graham St, is located in the popular Victoria Quarter of the city, just off Victoria St West, close to where the major Telecom campus complex has just been completed.
The property is part of Bayleys' latest Greater Auckland portfolio, released to the market this weekend, and is for sale by deadline treaty, closing on October 20, through Nigel McNeill and Colin McKenna of Bayleys Auckland.
McNeill says the 1960s-built office building is adjacent to the Auckland City Council offices and a couple of doors down from a public parking building. It is also within walking distance of Queen St and the Viaduct, and is close to a large office development currently being constructed by Mansons in Victoria St West.
McNeill says small freehold office buildings in the central city area are becoming rarer by the year, with many CBD sites having been amalgamated and existing buildings torn down for redevelopment.
"Companies that want to own and operate out of property in the city are mainly restricted to buying strata-titled office floors, so a stand-alone office building like this with a separate income stream is a bit of a rarity and makes a very affordable alternative to owning a single office floor in a larger building," McNeill says.
McKenna says the property is currently producing net annual rental income of $135,250, which would substantially increase if the top floor was leased, or alternatively could help cover the mortgage for an owner-occupier utilising the top floor.
The ground floor has a nine-year lease to A Plus Cafe until November 2015 and has a long frontage to Graham St.
Upstairs, product and service design company Optimal Usability has a lease over an entire floor, which is subdivided into a large reception area, boardroom, cafeteria and three rear offices. Founded in 2000, the company has offices in Auckland and Wellington and has won a number of Deloitte Fast Fifty awards. One of its more high-profile jobs was testing the usability of Air New Zealand's new Skycouch in Auckland, using a mock Boeing 787 cabin which Air New Zealand had built in a secret location.
The building's vacant top floor comprises refurbished, mainly open-plan space, but also has two offices on the northern wall and four heat pumps. It also comes with four carparks. McKenna says it could suit either an office or residential owner-occupier, with a number of mixed-use buildings in the vicinity. All floors are 241sq m each and he says that the operating expenses are extremely low because the building is constructed very simply, with no lift or central air-conditioning plant.
McNeill says the property may also provide an opportunity for a new owner to add levels to "create something very special" in the future. "It is an underdeveloped site in a developing area on the Link bus route, almost adjacent to public carparking and close to all city amenities."