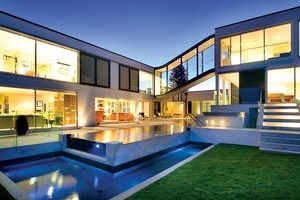 Real estate firms are increasingly turning offshore to secure sales amid a drought of willing buyers in the New Zealand market.
Harcourts says a six-day expo of more than $800 million worth of premier New Zealand property in Shanghai is generating "serious interest" from VIPs in China with a number of offers already been made.
Harcourts' franchise Cooper & Co on Auckland's North Shore is marketing a portfolio of 57 residential, lifestyle, rural and commercial property and development projects to more than 1200 Chinese millionaires and billionaires interested in investing or immigrating here.
Harcourts New Zealand chief executive Hayden Duncan said a limited pool of local buyers for high-end property in the New Zealand market meant agents were looking outside the square to secure sales.
"We have a large portion of clients who are saying 'we need you to be creative and we need some solutions to this problem because we are either looking at a long time on the market or figures of what we can achieve which are significantly less than what we paid for them'," he said.
The national median number of days to sell a residential property in New Zealand during July was 45, up from 30 days during the same period five years ago.
The median nation sale price for residential property was $349,000 and for rural property it was $1,118,500.
REINZ spokesperson Peter Thompson said while agents had marketed property offshore for a number of years, the use of the internet as a marketing tool was fuelling some of the interest from overseas.
Earlier this month Bayleys said it was marketing up to 100 farms, businesses and high end homes at property expos in the UK and Switzerland.
The move was made because demand from the local market had been tough and some vendors had chosen to sell directly to offshore, before marketing their property domestically, the company said.
While Thompson acknowleged there was opposition to offshore investment, particularly around the sale of the Crafar farms to the Chinese, he said it was worth remembering the Harcourts properties were listed on the open market and that offshore investors only represented a small proportion (about five to eight per cent) of total buyers of New Zealand property.
The Government is currently reviewing the rules around foreign ownership. Currently Overseas Investment Office approval is needed where sensitive areas of more than 5 hectares of land are being sold.
Duncan said there had been a lot of ill-informed discussion around foreign investment in New Zealand and the debate had highlighted a certain amount of discrimination "about the colour of people and the language they speak".
"It's easy have a viewpoint like that when it's not your property and you're not stuck with it and looking at a significant loss or an incredibly long time on the market."
"Regardless of an expo in China or not, if someone from China walked was to walk in the front door of your home and offer you more than anyone else was willing to pay in a shorter time frame, I don't believe there would be too many New Zealanders who wouldn't be willing to sell regardless of where those buyers came from."
Property lawyer Greg Towers of Simpson Grierson said if the Government moved to clamp down on foreign ownership, then it could become difficult for existing foreign investors to sell.
"You have to be careful if, on the one hand you are encouraging foreign investment in New Zealand and then in the future make it more difficult for foreign investment."
"That would mean the owners of the asset could only sell domestically and sell I imagine for a lesser price."
"It could become a vicious cycle," he said.