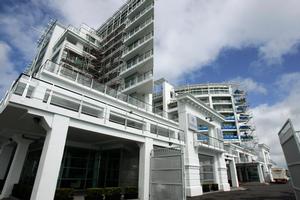 Problems have dogged the building sites of two Princes Wharf structures which are now suffering weathertightness issues.
Leaks at the Shed 24 apartment/office block and at Hilton Auckland in Shed 21 have come to light.
The project to finish the two buildings on the northern end of the wharf was one of the country's worst for builders, dogged with controversy, payment disputes, subcontractor complaints, legal fights and company collapses. Eventually, the law was changed to stop the same situation happening again.
Goodall ABL built Shed 24 and it went into receivership in 2000. Shed 21/Hilton was abandoned, partly-built, for months after Hartner Construction went under in 2001. Hartner built five of the wharf's six sheds.
Payment problems on the wharf led to widespread industry debate and eventually the introduction of the Construction Contracts Act.
Architect John Sinclair of Architectus is the expert supervising repairs at Hilton.
He wrote a report on Shed 24 based on the assumption both buildings had been properly built and signed off according to the rules.
"I have assumed that all the structures were designed in accordance with the regulatory requirements, property checked, consented, professionally supervised, inspected and certified as fully complying," he wrote.
All six Princes Wharf sheds were designed by Colin Leuschke and developed by David Henderson who, since 2007, has been seeking about $10 million for his quarter-acre apartment spanning the entire top floor of Shed 21/Hilton.
In 2001, Henderson said he regretted letting five of the six jobs to Hartner Construction. Apartments had been flooded and the wharf structures had major faults with plastering, painting and tiling.
Architect John Sinclair wrote a report to Dockland Holdings which holds the lessees' interest and subcontracts building management to Livingstones which described work last year as just repairs and maintenance.
Sinclair explained why Shed 24 was failing and blamed a combination of factors.
"There are basically defects in the cladding and waterproofing. The most significant consequence, based on my experience at the Hilton, may be degradation of timber framing where water has been able to ingress and cause sustained dampness inside a wall. Like all the matters I identified, I believe this is capable of repair and will not impact on the structural integrity of the building,"
Sinclair wrote to Dockland's Mark French, saying he had been asked to comment on the possible effect of the issues about "the integrity of the Shed 24 structure".
Sinclair said having understood problems with Shed 21/Hilton helped him to know what was wrong with Shed 24 but he could not rule out stability concerns.
"I am not a structural engineer and so can only comment in my personal capacity as an architect," he wrote.
FOR SALE/FOR RENT
Princes Wharf units:
* 35 listings to sell or rent wharf apartments.
* Collection of Shed 24 apartments on market.
* $185,000 to $260,000 sought for single bedroom unit.
* $800/week to rent 1 bedroom, Shed 23.
* $1000/week for 3-bedroom unit, Shed 20.
* Shed 20 1-bedroom unit for-sale at $149,000.