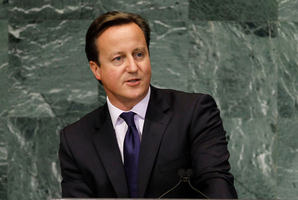 British Prime Minister David Cameron instructed Cabinet Secretary Sir Jeremy Heywood to contact the Guardian to spell out the serious consequences that could follow if it failed to hand over classified material received from Edward Snowden.
Senior Whitehall sources confirmed to the Independent the Prime Minister's central role in trying to limit revelations about UK and US intelligence operations contained in information the whistleblower received from the National Security Agency.
The Daily Telegraph reported that Cameron sanctioned the destruction of computer equipment belonging to the Guardian on national security grounds and was briefed on the police operation to detain the partner of a journalist.
News of Cameron's intervention came as official Home Office and Scotland Yard accounts of the nine-hour detention at Heathrow of the Brazilian partner of a Guardian journalist were contradicted by lawyers involved in the ordeal.
According to the Metropolitan Police, David Miranda - whose partner Glenn Greenwald has led the reporting of stories linked to NSA material supplied by Snowden - was offered legal representation during his questioning and a solicitor was in attendance. The Home Office also claimed the detention was "legally and procedurally sound" and backed in full the Met's account.
The Home Secretary, Theresa May, confirmed she had been briefed in advance of the detention, but insisted it was the police who had made the decision to stop and question Miranda on his way through Heathrow from Berlin. These accounts do not match descriptions given by the Brazilian's legal representative.
Gwendolen Morgan, a solicitor at Bindmans who is representing Miranda in challenging the legality of his detention, said: "It is incorrect Mr Miranda was offered legal representation. When we were told by the Guardian [of the detention], Gavin Kendall from our legal department was sent to Heathrow. He was persistently blocked by officials for a long period from gaining access to the room where the questioning was taking place. The detention lasted nine hours, the legal limit of Schedule 7 of the Terrorism Act. Gavin finally gained access only during the last hour."
Miranda's legal team are preparing an injunction which will demand a judicial review of the way the anti-terrorism law was used against him. His lawyers have also demanded the Government explain at whose request, and for what purpose, the police seized "sensitive journalistic material" during his detention.
The UK's independent reviewer of terrorism legislation, David Anderson QC, is to meet representatives from the Metropolitan Police this week.
A Downing Street source said the fact Miranda was carrying "stolen" information from the NSA posed a serious threat to Britain's security.
- Independent, Telegraph Group Ltd