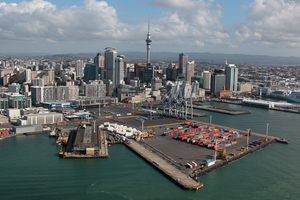 There is a wide, sometimes divisive, range of views on how our city's port should operate. Those whose views are most forcefully expressed do not always match force with clarity. Having had an unusual opportunity to consider the issue and often being asked for my opinion I thought I might set that opinion out with as much clarity and objectivity as I could muster.
To be clear I come from the position that there is a port in existence, that the port is owned by the city, and that most of us would prefer the port operated so as to benefit the city. (I discount the second port at Onehunga which should be closed and the area devoted to some social, commercial or residential purpose to which it is more suited).
The first thing we should do is value the land on which the port operates properly that is at the value which would be attracted by its highest and best use. Let's not get into technicalities but accept that this number is some multiple of the current valuation. Now you do not have to be a googly-eyed free marketeer to accept that if something is priced below its real value people will tend to use more of it rather than less.
How much more attractive if by reclamation you could create more for less than it was worth? Might this mere fact about the real value of your capital not dwarf an academic debate about whether you were earning your cost of capital? Might it not lead you to decisions not to wastefully use your land? Might it not hasten adoption of new technologies and logistical processes which saved expensive land?
A lot flows from the recognition of reality. It often pays to start there. I'm going to label this the second thing to do but this is only a convenience for writing purposes. In practice in restructuring a business one needs to think holistically and act holistically. If you try to do things in a sequence you will most likely come unstuck. Do it all and do it now is the best mantra if you are in trouble.
The second thing is to define what sort of port you want to be. Typically in the private sector an owner does this (or gets replaced by an owner who will). It's not enough to say lets operate as a successful business. In practice I don't think this is too hard to improve on for the port and that something like we want to be an efficient and sustainable port, taking up only such valuable space as we need, serving the region's importers and exporters where using us is the best option, would meet the needs.
This view flows naturally to the port's owner having to take an intense interest in the wider port options available. Such a rational owner (suspend disbelief if you must) would be very active in ensuring that anything which prevented operational rationalisation between the ports in Auckland, Tauranga and Northland was changed.
It would free the port to pursue such rationalisation and assist with any legislative or regulatory obstacles. It would certainly have widespread producer, importer and freight transport support. A counter to shipping line collusion, what a radical thought.
This new port we envisage would not continue with management and supervisory structures which were designed to run a harbour board in a different market. It would simultaneously restructure that aspect of its business to one which was much smaller and customer focused.
There would be no time to wait as each of these things must occur together (now is too late might be an even better mantra). Change decisively, quickly and fairly (your obligations have been negotiated in very benign times and are better than most of your owners experience).
You see then, with this clarity, that the collective agreement and work practice issues are a residual rather than the heart of the matter. Yes they have to change as well. Like all other aspects you cannot do this with the tools and structures and attitudes which are the product of your past.
Again you have to be clear and decisive. As Lenin was fond of saying, facts are stubborn things. I reckon that being up front in this way is better than dragging it out. The choice is not whether it is better to burn out than it is to rust, but being better fewer but better in a right sized port being run rationally.
* Rob Campbell resigned as a board member of Ports of Auckland last month citing strong differences over the Ports' position and strategy.