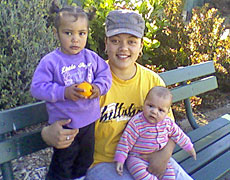 The man accused of murdering two young women in their Wellington home left two children wandering the gore-spattered house before arriving at a neighbour's door covered in blood.
The 28-year-old unemployed man was granted interim name suppression when he appeared in the Porirua District Court yesterday morning.
He was charged with murdering Joelene Rangimaria Edmonds, 21, and Jashana Maree Robinson, 16, who were found dead in the Titahi Bay house just after 11am on Friday.
The defendant was also accused of breaching a protection order banning him from contact with Edmonds.
Police described the incident as "domestic" and said the man knew Edmonds. He was remanded in custody until July 7 and it is believed police are not looking for anyone else.
Jane Langley, a caregiver for an elderly lady who lives next door, said she heard "wailing and crying" from the house about 10am.
"I could hear 'wake up, please wake up Joelene'. Then he turned up at the door covered in blood and started crying."
Langley knew her neighbour Edmonds well, and often spent time with her and her children, Iezha, 14 months, and Vanesti, 2 years.
"I told him to get the kids out of there. Then I asked what he had done. He said he had called the ambulance and the police.
"The blood was on his hands and on his shirt. He told us he came home at 10.30am. He said he knocked on the door but there was no answer so he went to the back door. He opened the door and the toddler said 'mummy's in bed'.
"We didn't even know anything had happened until he arrived at the door."
Police arrived shortly after.
Detective Inspector Shane Cotter of Porirua Police confirmed Edmond's children were found in the house.
"When the bodies were discovered those two young children ... were still at the address wandering around the house.
"The toddlers are with the rest of the family now. The family are distraught, angry, hurt. They are very distressed."
Neither Langley nor her client heard anything until the man began screaming.
"Joelene's a lovely mum with two lovely children," she said. The kids were always happy and well dressed."
She described Edmonds as "really into her family" and the "sort of girl that would help anybody". Langley said Edmonds was always willing to lend a hand, including making trips to the shops. The pair shared a cup of tea every day.
"It's a close-knit family. She was rarely alone in the house, had family over all the time."
About 25 family members gathered on Morere St yesterday afternoon, crying and hugging one another for support. Accompanied by several police, they walked arm-in-arm down the street towards the dead women's house, stopping a short distance away to pray. They then gathered on the lawn next door as the bodies were removed.
When the first hearse pulled away a man called out several times: "Come home my baby. You're coming home baby."
As the second was loaded, a woman cried: "You bastard."
Family gathered on the lawn to sing a hymn, Whakaariamai, before moving away.
Jashana's school friend Chanae Ruri told TV3 her friend was happy at the house, which she had just moved to. "She thought it was a safe place."
Officers have asked for any witnesses who saw a man walking between Tawa and Titahi Bay carrying a baseball bat between 6am and 10am on the day the women were killed.
Last night, early results from a post-mortem examination estimated the time of death as being between those hours.
Two witnesses had already come forward and police were interviewing them yesterday afternoon.
- ADDITIONAL REPORTING: Heather McCracken
By Joseph Barratt