New Zealand is one of few countries in world which has not adopted regulations to clamp down on plastic.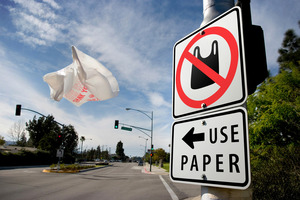 People feel uncomfortable seeing discarded plastic bags out of place, such as in the landscape.
Plastic bags are virtually without substance. They are evanescent puffs of polyethylene that are hygienic, odourless, waterproof, robust and convenient.
Evolving out of the 1950s, this product, which already uses 75 per cent less resin than 20 years ago, nearly made its competitor, the paper bag, extinct. This was due to their being three to four times cheaper to make than their heavier and bulkier opponent.
As advocates of plastic bags will add, the plastic bag looks like a winner when viewed in terms of life-cycle analysis, compared with the tree-fouling, chemical-pulping, intensive-bleaching, water-sucking industrial production that goes into making the natural, potato-skin feel of a brown paper bag.
This is especially so when you realise that plastic bags have the highest reuse rates of any disposable product, with around 80 per cent going on to have a second life as lunch bags, bin liners, nappy bags or poop-holders for conscientious dog owners.
Due to these benefits, the production of lightweight plastic bags has grown exponentially. Globally, between 500 billion and one trillion bags are carried home every year. That is 150 bags a year for every person on Earth, or to put it another way, a million a minute and rising.
The annual consumption of plastic bags in the United States and England is about 300 per person. For other European nations, the figure is closer to 200.
In spite of all of these successes, there is a global backlash against lightweight plastic bags being given away freely.
Last year, Los Angeles became the largest city in the United States to approve a ban on plastic bags at around 7500 supermarkets, meaning shoppers need to bring reusable bags or buy paper bags for 10c each.
In doing so, Los Angeles became the latest in a string of California cities - including San Jose, San Francisco and Long Beach - trying to stop the tide of some 12 billion bags a year in their region, of which only 5 per cent were being recycled.
Despite the plastics industry vigorously fighting these measures, there is a clear trend in both the US (where there have been more than 200 anti-bag measures introduced) and around the world.
The process began in Europe nearly 20 years ago when the Danes began to charge people for excess packaging, including carrier bags. Taiwan followed in 2001, as did Bangladesh, banning the production and sale of lightweight plastic bags. Cities in India and Australia were next, along with South Africa, which banned carrier bags thinner than 30 micro-metres.
In 2002, Ireland began charging shoppers €22c (35c) per bag and within weeks the use of bags dropped 94 per cent. This drop was complemented by around €13 million generated each year from the charge that is dedicated to defraying the programme's costs and to supporting environmental causes.
Japan, Taiwan, Tanzania, Uganda and the United Arab Emirates followed suit, with mixtures of either national charges for freely given-out plastic bags, or complete bans on plastic bags below a certain weight.
Last year, Italy became the first country in Europe to ban non-biodegradable plastic bags. Belgium, Germany, Spain, Norway and the Netherlands have introduced charges. Wales introduced a levy of 5p (10c) per bag last year and Northern Ireland will do so this year.
The English are seriously looking at similar measures, and Europe is about to restrict plastic bags that are not easily biodegradable being handed out without cost. All of these moves have been boosted by a number of multinational corporations, such as Ikea, Whole Foods, Walmart, Target and Marks and Spencer, who take their responsibility to the environment seriously.
These organisations accurately predicted the groundswell of public concern, where people felt that unlike issues such as whaling or the ozone layer, they could directly engage with the problem.
Their opinion is not because of the life-cycle analysis of plastic bags, their (minimal) contribution to landfill or their low rates of recycling. It is because, despite being a small percentage of the litter, their permanence and prevalence has allowed them to become a type of eyesore that has evolved into an ugly emblem of waste and excess.
People feel uncomfortable seeing discarded plastic bags out of place, such as in the landscape. These feelings intensify when they are linked to problems ranging from blocked drains to choked wildlife, especially in the sea.
In the oceans, around 80 per cent of plastic litter originates on land. Plastic bags are not as guilty of directly killing wildlife as other types of plastic, but they are part of the picture.
The same problem exists with litter that comes back ashore. Although plastic bags are often in the minority of types of plastic waste, it is still a sizeable problem.
Clean-ups of Auckland's North Shore beaches in 2011 and 2012 showed this clearly with around 4000 plastic bags picked up and taken to the landfill both years.
Globally, beach clean-ups retrieve close to one and a half million plastic bags a year.
These figures show only what we can see. That is, unlike many other types of plastic, bags can sink, becoming immune to the ultra-violet light that could have eventually broken them down. The extent or impact of plastic bags on the ocean floor is unknown.
In many of the countries listed, the costs trump the benefits of lightweight plastic bags being freely available. This is not the case in New Zealand, where the Government remains unconvinced of the need to adopt regulations that have reduced around 80 per cent of the problem elsewhere.
This attitude is different to leading New Zealand brands like the Warehouse, which charges its customers 10c a bag.
Last year, this charge totalled $432,000, which was given to around 68 community groups. The move also diverted more than 500 tonnes of plastic from both landfill or litter.
Only one of these two organisations is attempting to keep the 100 per cent pure, clean and green image of New Zealand defensible and on par with best international practice.
Al Gillespie is Professor of Law at the University of Waikato.