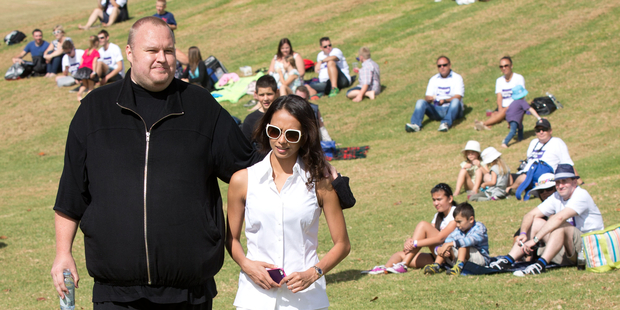 Kim Dotcom and his estranged wife, Mona, will be brought together in court today as witnesses in the John Banks trial.
The couple are scheduled to appear in sequence with Mr Dotcom taking the stand first to testify over donations he made to Banks' 2010 Super City campaign.
Mrs Dotcom was to appear immediately after with her testimony forecast to support that given by her husband.
The court date comes about a week after the couple separated and follows confirmation of the separation by a lawyer acting for Mrs Dotcom.
Minter Ellison Rudd Watts partner Mark Sandelin confirmed he was acting for Mrs Dotcom and could "confirm the couple have separated".
He said they were seeking privacy while they focused on "looking after their children".
Mr Sandelin is described on the law firm's website as having "a significant practice representing clients in relationship property disputes".
He is also described as having "extensive experience in other forms of dispute resolution with a particular emphasis on mediation".
The couple's separation has been tracked through changes to company structures, although two of Mr Dotcom's main business ventures remain locked in a company held in Mrs Dotcom's name.
His Mega cloud storage company and fledgling Baboom music are both owned by MD Corporate Trustees Ltd, which is 100 per cent owned by Mrs Dotcom.
In the Secret Life of Kim Dotcom, Mr Dotcom told of meeting Mrs Dotcom in a nightclub in Manila in 2007.
He spotted her on the dance floor and claimed to be instantly smitten.