Domestic protests over amnesty plan distracting for host Thai Prime Minister.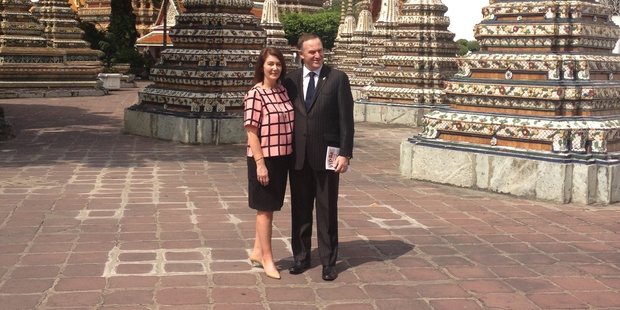 Prime Minister John Key will return to New Zealand today hopeful his pleas on trade were heeded despite domestic political turmoil in Thailand distracting his host, Thai Prime Minister Yingluck Shinawatra.
Tens of thousands of both the yellow shirt and red shirt protesters were hitting the streets during Mr Key's visit, protesting after the attempt by Ms Yingluck's Government to award amnesty for politicians, including the polarising Thaksin Shinawatra, facing corruption charges.
Mr Key said the protests were not as bad as in 2009, when he had arrived for the East Asia Summit and had to return to New Zealand without making it out of the airport because of the protesters.
"So I don't think that minor volatility is having any major impact on the relationship either with New Zealand, or our capacity to meet the objectives of the trip."
He said that was to talk to Ms Yingluck about speeding up the removal of tariffs under the free trade agreement with Thailand signed in 2005.
Although Ms Yingluck went ahead with her meetings with Mr Key, she pulled out of the planned joint press conference she was due to have with him afterwards. That is believed to be because of reluctance to be asked about the domestic troubles.
Mr Key said consumer demand in Thailand meant that the threshold at which the tariffs kicked in had been reached early, especially for meat and dairy. Dairy imports make up about half of New Zealand's exports to Thailand, but have dropped by about $100 million over the past two years to $290 million.
The drop was partly because of an initial spike in skim milk powder exports in 2011 when Thailand first opened the quota for it. It subsided back to normal levels after that, although the drop was also because of New Zealand dollar fluctuations and changes in international prices. Fonterra has a strong foothold in the market and Thailand was one of the countries affected by the false scare over contaminated milk this year, although the most recent figures do not include the impact of that.
Thailand has been relatively stable since Ms Yingluck was elected Prime Minister in 2011, but unrest was sparked again by the Amnesty Bill. Thaksin Shinawatra has been in exile to avoid facing corruption charges since 2006.
Mr Key said he did not believe it would result in instability for the Thai Government because the Amnesty Bill was withdrawn after failing to get support.