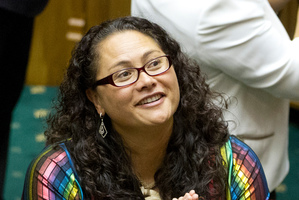 David Cunliffe says he used a page from Helen Clark's playbook in his shadow Cabinet reshuffle yesterday, embracing at least some caucus colleagues who supported his rivals during Labour's leadership contest.
Little more than a year out from the next election, Mr Cunliffe kept a steady hand on the wheel, with just two new faces, including his own, on Labour's eight-strong front bench.
The other new entrant is Chris Hipkins, who went public with his criticism of Mr Cunliffe after his abortive coup late last year against the then leader, David Shearer.
Mr Hipkins has been promoted two places to number eight and keeps his education portfolio.
Jacinda Ardern, who supported Grant Robertson for leader, loses the key social development portfolio to Cunliffe supporter Sue Moroney but has dropped just two places to number six and picks up the weighty police and corrections roles.
Annette King, who also supported Mr Robertson, keeps her health portfolio and rises two places to four.
Filling out the front bench are deputy leader and finance spokesman David Parker at number two, shadow leader of the House and employment skills and training spokesman Mr Robertson at three, economic development spokesman Shane Jones at five and state-owned enterprises spokesman Clayton Cosgrove at seven.
Mr Cunliffe said it hadn't proved difficult to embrace people who had opposed his leadership bid. "The day I got the job I became the servant of the whole caucus and I'm here for the whole party."
Mr Hipkins, who is the type of attack dog Mr Cunliffe said he wanted on the front bench, was promoted "because he is a very able colleague and I, personally, believe that he belongs on the front bench to take the fight to the Government in a portfolio in which he does extremely well".
In the 1990s, Helen Clark - then leader - responded to rivalries within her caucus by giving prospective challenger Michael Cullen and his supporters prominent roles. Mr Cunliffe acknowledged her influence in his choices. "That was certainly a model I had in mind."
But despite the fact that Mr Cunliffe's leadership bid was opposed by most of Labour's MPs - particularly the so-called ABC (Anyone But Cunliffe) group - the new leader said "there's been no hatchet to bury; we are a united team".
The ABCs had been renamed "All Behind Cunliffe", he quipped.
But some MPs who didn't back him during the leadership race were not so fortunate. Housing spokesman Phil Twyford keeps his portfolio but loses his front bench spot, dropping three places to 11. Formerly up-and-coming Dunedin North MP David Clark, who had already lost his economic development portfolio to Mr Jones, fell eight places to number 20.
Dunedin South MP Clare Curran, who criticised Mr Cunliffe's supporters for citing Mr Robertson's homosexuality during the leadership contest, loses her information and communications technology portfolio to Mr Cunliffe.
Jacinda Ardern is no longer Labour's highest-ranked woman
Labour MP Jacinda Ardern says she has a long list of interests in Parliament and "something had to give" after she lost the sought-after social development role.
Ms Ardern, who supported Grant Robertson's failed leadership bid, is no longer Labour's highest-ranked woman after she fell two places in the Labour reshuffle to sixth. She also picked up the shadow police and corrections roles.
She said she would still be taking on Social Development Minister Paula Bennett's record on child poverty and vulnerable children in her role as children's spokeswoman, which she held on to.
Ms Ardern did not believe that the reshuffle reflected her performance in the portfolio or the fact that she supported Mr Robertson.
"I had a conversation which David [Cunliffe] about all the areas that I am interested in. Unfortunately my list was a little long and something had to give."
Labour leader David Cunliffe said that Ms Ardern was well-suited to the police portfolio because she came from a "police family" - her father had been in the force for more than 30 years and was the police liaison to the Pacific Islands.
Ms Ardern was replaced in the welfare role by list MP and new senior whip Sue Moroney, a supporter of Mr Cunliffe.
She had initially been demoted in the party rankings by former leader David Shearer after she backed Mr Cunliffe, but has steadily climbed back up the party list since.
She said: "I'm an example for other caucus members to look at. I have clawed my way back through hard work and dedication and showing what I'm capable of."
Ms Moroney had been ACC, Women's Affairs and Early Childhood Education spokeswoman, and was leading the call in Parliament for extending paid parental leave from 14 weeks to 26 weeks.
She said she was capable of turning her hand to any role: "I bring my life experience and my knowledge that out there in New Zealand, families are really struggling."
Asked whether she had wanted the high-profile portfolio, she said she asked for a job which would give her a challenge: "This one certainly does".
Ms Moroney said it was a complex role, and was thankful she had some time to get into the job before next year's general election.
- Isaac Davison