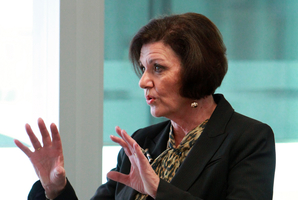 The Government is warning synthetic drug manufacturers and sellers that a grace period for licensing their products and stores has lapsed and only Ministry of Health-approved psychoactive products can now remain on shelves.
Police Minister Anne Tolley reported that a Hamilton dairy had already been penalised under the legal high reforms, which put the onus on drug-makers to prove their products were safe before sale.
The dairy had 2000 packets of synthetic cannabis worth $40,000 confiscated under new rules which banned sales from dairies, petrol stations or any stores which were not licensed specialty outlets.
Manufacturers, sellers, and importers were given 28 days since the passing of the Psychoactive Substances Bill on July 18 to acquire interim licences for their products, stores or imports from a new regulatory authority.
The three-year licences were only granted to people or companies who had proven they were "fit and proper" to carry out these activities.
The legislation introduced fines of $500,000 or jail sentences of up to+ two years for unlicensed importing or manufacturing of synthetic drugs, or up to three months' imprisonment for selling without a licence.
A cross-Government group including the Customs, Police and Health Ministries said there would be little leniency shown to those operating outside the law.
Associate Health Minister Todd McClay said: "We have seen numerous examples of unscrupulous retailers peddling products that have had significant adverse effects on those taking them, in many cases children."
Customs Minister Maurice Williamson said border patrols had the technology to detect illegal shipments of party pills and synthetic cannabis, and importers without licences would have their products seized.
Last week, Mr McClay recommended that local councils used their new powers to further regulate legal highs. Under the law change, local authorities could limit the number and location of specialist stores, such as banning them from operating near schools or churches.
The rules
* Synthetic drugs can only be sold if the product has been granted an interim licence.
* To gain this licence, the product must have been sold 6 months before the law came into force.
* Synthetic drugs can only be sold to people 18 years and older from licensed specialist stores.
* Synthetic drugs can only be imported by licensed individuals/companies.