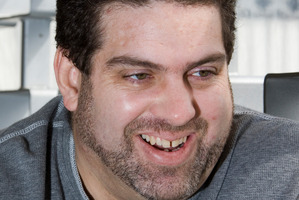 Whaleoil blogger Cameron Slater revealed personal details about a striking worker's bereavement leave. Photo / Paul Estcourt
A political strategist who has trained National Party MPs says the Ports of Auckland colluded with right wing bloggers to undermine industrial action against the Ports of Auckland.
The claim is in a leaked document written by controversial strategist Simon Lusk - and hotly denied by the publicly-owned port company.
The document was dated February 2012 - when the port strike was most heated - and is part of Mr Lusk's strategy for the National Party.
It read: "The right currently controls the blogosphere, and the political journalists repeat much of what appears on blogs.
"The case in point is the way the Maritime Union have received huge negative publicity about their salaries, based on POAL (Ports of Auckland Limited) working with certain bloggers to control the story. Financial support for these bloggers will enable them to build their credibility and readership."
The issue of port workers' salaries became a central feature of the heated industrial action and was covered by a number of blogs, including the Whaleoil site run by blogger Cameron Slater, who was running rogue training courses for aspiring National MPs with Mr Lusk.
Mr Slater's blog revealed personal details about a striking worker's bereavement leave after the death of his wife and the company's efforts to assist him. The Privacy Commission later found the port had leaked personal details of its staff to the blog.
Ports of Auckland adviser Brent Impey said there was no collusion with any blogger, including the Whaleoil blog. He said Mr Slater had been granted access to the port "no different from any other journalist".
"Anyone who rings up who is going to be publishing, you give them the time of day."
He said the port did not know how the information was leaked. "We have carried out as much investigation as we can to find out how that information got out there. We have tightened systems since."
Mr Lusk's plan was rejected by the National Party the same month it was written, with former senior whip Michael Woodhouse telling the board the strategist had a "very negative agenda".
But Council of Trade Unions president Helen Kelly said there had been a concerted attack on unions by Mr Slater. She said Mr Slater was "irrelevant" but was concerned about the port "putting the knife into its own staff".
Mr Slater had since targeted a number of unions. Meat Workers Union president Graham Cooke said the blog had attacked the organisation on a regular basis.
"What's worse is it was unwarranted. It was factually inaccurate and poorly researched."
He said he believed the attacks were driven by the industry in which the union's members worked. "Without a doubt there was a concerted campaign against us."
Mr Slater said he covered the strike as other media outlets did. He said there was no arrangement with the port to do so and he had not discussed it with Mr Lusk.
He said yesterday he had never actually been paid although believed he should be. On the port, he said: "I hate unions pathologically. I've hated them since I was 15 years old and I would do it for free.
"I have never been paid for any posts about unions, ever."