Peters' support gives Government a comfortable margin to expand powers of GCSB.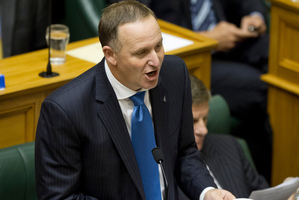 New Zealand First will support law changes allowing the GCSB to spy on Kiwis, giving the Government a comfortable majority on the controversial legislation.
But leader Winston Peters says his party's support is conditional on additional safeguards for the public against unfair surveillance.
Prime Minister John Key last night briefed Labour leader David Shearer, Green co-leader Russel Norman, United Future's Peter Dunne and Act's John Banks on his proposed amendments to the GCSB Act.
The major change will make it clear the GCSB can intercept New Zealanders' communications when assisting other agencies including the SIS, police and Defence.
That co-operation has occurred for many years but questions about its legality were publicly raised in Cabinet Secretary Rebecca Kitteridge's GCSB report last week.
Mr Shearer and Dr Norman say they will not support Mr Key's legislation unless the Government undertakes a comprehensive independent inquiry into New Zealand's intelligence agencies.
Government ally the Maori Party last night added its voice to those calls but Mr Key says he will not do that.
However, Mr Peters yesterday broke with his Opposition colleagues and said he would support the legislation.
"NZ First recognises that terrorism can be homegrown, international experience all points to that" he said. "Yes, we do need a law change but only if there are safeguards as to the proper issue of warrants and proper examination of the propriety of holding those warrants. That's what our support depends upon."
Mr Peters said the additional oversight proposed by Mr Key this week was not enough.
"We think a panel of three people in whom the public can have total confidence should be having the ultimate oversight on the matter of surveillance of our citizenry."
That panel should include an expert judge and possibly even a representative from the Privacy Commission in order to "give the public confidence they're not being unfairly spied upon".
While Mr Key's legislation was likely to have passed its initial stages at least with the support of Mr Dunne and Mr Banks, Mr Peters' backing would give him a comfortable margin.
Mr Key said he would take a look at what Mr Peters wanted and welcomed his comments.
However, a spokesman for Maori Party co-leader Tariana Turia said the party would "never agree that New Zealand citizens should be under surveillance by the GCSB".
"Maori people are disproportionately affected by laws on offending and arrest. It could be alleged that we will be similarly affected by spying - and who would ever know? We must review these laws and practices."
Meanwhile, as part of its response to the Kitteridge report the Government will today announce changes to the laws on what telecommunications companies must do to allow police and intelligence agencies to intercept calls and data on their networks.