Key's Beijing meeting also agreed on new visas to make it easier for business travellers.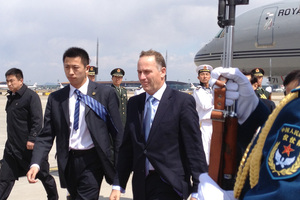 An agreement to fight the production of methamphetamine was announced by Prime Minister John Key and Chinese Premier Li Keqiang last night during formal talks held just after Mr Key's arrival in Beijing.
The Prime Minister received an official welcome before the talks in the Great Hall of the People on Tiananmen Square where the two leaders signed up to a suite of measures, including the agreement to work more closely to fight the production of methamphetamine.
Mr Key said the narcotics arrangement was designed to boost police co-operation to stem the flow of chemical from which illegal drugs are made.
They also agreed on new visas that will make it easier for business travellers from both countries.
Mr Key said he raised the issue of North Korea and conveyed New Zealand's "deep concerns".
"We appreciate the significant steps China has taken on this issue in the past and as chair of the six-party talks, and more recently in supporting strengthened United Nations Security Council resolutions on North Korea's missile and nuclear testing.
Mr Key also briefed Mr Li on the joint United States-New Zealand proposal to establish the world's largest marine protected area in the Antarctic's Ross Sea.
China will allow New Zealand business visitors multiple entry over three years and the ability to stay up to 30 days on any one visit.
New Zealand's is even more generous allowing business visitors to stay up to 90 days in any 12-month period, as well as multiple entry over three years.
Science and Innovation Minister Steven Joyce was there to sign a strategic partnership agreement that will encourage partnerships between education institutions, kicked off by one between Waikato Institute of Technology and the Tianjin and Qingdao technical colleges.
They have decided to stick to the five-year target established by Mr Key and former Premier Wen Jiabao to double trade to $20 billion by 2015.
"It's still quite a lot of work to be done - $5 billion in the next two to three years," said Mr Key.
"But you've got to say if you take a step back for a second and reflect on the comments they have been making to us in terms of how they value the relationship, where they see it going, the courtesy they have afforded us as someone that they treat as a really good partner, I think we're definitely on track to do better here."