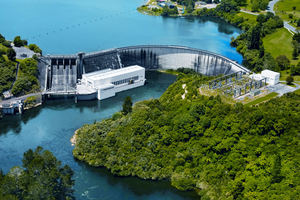 Advertisements for the Mighty River Power sale came on to our television screens this week and viewers could have been forgiven for thinking they were placed by an opposition political party. The Waikato dams and the Wairakei geothermal pipelines looked magnificent. Images of hydro energy and steam spoke of a century of public investment.
They evoked state enterprise so powerfully that it is remarkable the Government should let these images promote an asset sale it knows to be unpopular. Its effrontery in the face of expressed public opinion suggests a confidence, verging on arrogance, that its asset sales will be forgiven.
Public opinion polls give it good ground for that confidence. The polls consistently find about two thirds of the electorate opposed to asset sales but that was so before the last election and it did National no harm. The re-elected Government went ahead, legislating to set up its "mixed ownership model", defending its intentions against the Maori Council's challenge at the Waitangi Tribunal, the High Court and the Supreme Court, and ignoring a petition for a referendum.
The latest polls even put National back over 50 per cent, more than Labour and the Greens combined, enough to govern alone in the unlikely event that it does as well at the next election. National will probably need partners but there is no denying that its asset sales have made not the slightest dent in its prospects.
How can this be?
Clearly a large number of voters can trust a government without liking one of its signature actions. Political pundits call the asset sales National's "flagship" policy and in many ways they are right. It is not often remembered that asset sales were no part of John Key's plans when he first led National to power in 2008. He adopted them part-way through his first term as a response to criticism in business circles that his Government seemed to lack the courage to lead economic reform.
An asset sales programme was a convincing answer to those critics, precisely because privatisation had always been the most unpopular element of market economics. The fourth Labour Government did not put public assets on sale until 1988, a year into its second term, and the National Government of the 1990s was unusually brave. It did much more than sell Telecom, the BNZ, New Zealand Rail, Contact Energy and other state companies - it tackled social welfare, trade unionism and even superannuation.
Key is not that brave.
Following the country's pleasant economic hiatus under Helen Clark, Key came to office assuring the public it was not going to see a re-run of the 1990s. And despite the resumption of asset sales, he has managed to keep the country happier than it was under Jim Bolger and Jenny Shipley.
That may be because his partial float of the three power companies is not as drastic as previous privatisation, not as fearful as Labour and the Greens have tried to paint it. Most voters do not like the idea but they do not think it important enough to stake their vote on, as Labour and the Greens wanted them to do at the last election.
It is, after all, a float of no more than half the companies. The public retains majority ownership, the remaining shares will be traded on an open market, small investors are promised priority in the initial public offering, and institutions will be in the market to help ensure the share opens at a price that represents fair value for both sides.
Key deserves credit for pursuing an unpopular policy in the face of sustained opposition. Having risked political capital on this one and lost none, he might be encouraged to do more.
What about raising the age of superannuation now?