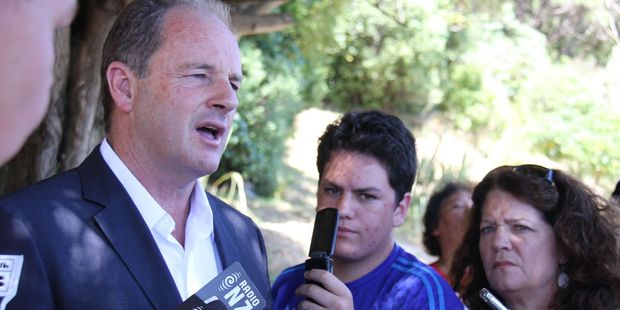 If the trio of 'state of the nation' leadership speeches are anything to go by, we're in for a boring political year. In place of meaningful ideas and innovation, all parties resorted to sloganeering. Despite all the intractable social problems and the need for new economic positions, big ideas are largely missing from New Zealand politics at the moment. Maybe the tumultuous 2012 political year for Labour and National means they're desperate to play it safe and consolidate in 2013.
It is not just an emptiness of policy on the part of Labour, but a superficiality and gimmickry that pervades the party's current approach - best pointed out in Vernon Small's very good analysis, Shearer's speech: Style over substance. And arch-critic of Shearer, Chris Trotter, has also admitted that, in terms of style, Shearer has undoubtedly improved significantly - see Dan Satherley's Trotter: Good start to the year for Shearer.
But Trotter has another savage critique of Labour today in his column, The Greens Reach Out To Reach Up. Trotter looks at the formidable electoral machine the Greens are building and compares it to Labours on the ground ability 'now a pallid shadow of its former prodigious grunt'. He also excoriates the Labour leadership for cautious policymaking: 'The Labour Leader's inner circle of advisors is distinguished neither by intellectual creativity nor operational dynamism. Far from reaching-out to activists and supporters outside the party's structures, most of the Shearer Camp's energies appear to be devoted to finding new ways of insulting and excluding them from policy-making'.
Labour is pushing its 'hands on' economic slogan - contrasting it with National's alleged 'hands off' approach. This is an attempt to draw a strong divide between the parties, and we can expect to see more. Usefully, two partisan bloggers have made their arguments about the reality of National's putative 'hands off' economic mode - see David Farrar's Not very hands off and Scott Yorke's Is National Really Hands-Off Then?. Regardless of what National is doing, Labour has a long way to go convincing many (including a number of it's core supporters) that it has any big ideas that will serve as an alternative to National's vision for the economy.
The one area in which Labour had a relatively bold policy is currently subject to serious erosion - see Claire Trevett's Shearer downsizes his housing promise. It appears that Labour is backtracking on its initial promise of building 10,000 new houses for under $300,000 each, with the slippery new explanation that its previous figure was meant as an 'average' and related more to apartments and small houses outside of Auckland. Labour now says that many KiwiBuild houses will actually cost up to $550,000.
National's apprenticeship announcement also reeked of superficiality aimed at winning some easy public approval points. This argument is well made by Tracy Watkins in On your mark - for a new beginning - probably the best commentary on John Key's state of the nation speech. Watkins explains the shift in Key's approach from previous years, in which he promoted the need for 'penny-pinching' austerity measures, to his current emphasis on keeping 'its hands on the levers'. According to Watkins there's now a public 'mood for something more than steady-as-she-goes'.
Tim Watkin also has an excellent analysis of the apprenticeship announcement in his blogpost, Mom, apple pie, apprenticeships & not much else. He says that 'apprenticeships are like mom and apple pie - everyone loves 'em, everyone reckons we should have more and is happy to see tax dollars spent getting young folk off the street and given a trade'. Watkin also bemoans the lack of boldness from National: 'The rest of Key's big plans for our economy will have eyes glazing over from Kaitaia to Bluff. Vague promises to reform the RMA, more talk of trade deals of questionable value, a piddling number of new houses (this after so few houses were built last year) and the repeated promise to sell 49 percent of a few state assets... there's little to excite voters'.
Other commentators are also less than impressed with National's minor apprenticeships policy - see, for example the Waikato Times editorial, PM offers little new policy and the Manawatu Standard column by Warwick Rasmussen, Key speech a missed opportunity. The latter says 'Key's speech was something of a missed opportunity. We are well into his second term as the nation's leader and he had the chance to really capture people's imagination with something more tangible and, possibly, bold. Instead, it gave us more of a look at the largely hands-off approach that Key's Government is known for'.
The Greens, too, appear to have little new to offer voters - their 'rent to own' housing policy appeared to be a variation on Labour's (and as fiscally conservative). In the weekend, Metiria Turei announced a new 'movement' campaign style - see Rob Kidd's Greens want wider political movement - but so far this appears to be entirely self-serving and vague. Blogger Martyn Bradbury also reports from his attendance at the Greens 'Picnic for the Planet' that despite the party's legendary high participation, there was a very low turnout ('a park with free music on a stunning day that was 80% empty suggests they have a lot of work ahead of them'), and based on his analysis of the Greens' voter support in Auckland, 'the Greens should consider changing their name to the Whites' - see: Can Greens get 15%? Not if Picnic for the Planet is an indicator. Leftwing activist blogger, Robert Winter says that he has detected a growing leadership rift in the Greens: 'I understand that in terms of both style and politics, Mr Norman has his internal critics, who are concerned about his potential capacity to "trim" his politics to gain power (a "power over principle" problem). Ms Turei is seen very differently, as a principled and radical presence' - see: Ms Turei on form.
All of the state of the nation speeches have been, according to Gordon Campbell, 'more about impression management than policy detail' and were very predictable - see: On the major party political speeches. And Colin James surveys where the various parties face challenges to changing their management and strategies - see: For four parties: the year of the pivot. Similarly, the Fairfax parliamentary gallery outline the challenges faced by all, and other upcoming issues in Payoff for austerity needed in 2013.
Other important or interesting recent political items include:
* Inequality is a major political focus at the moment. But when and how did New Zealand allegedly shift from being egalitarian to highly unequal? Steve Kilgallon surveys some of the issues and views in Are some of us more equal than others?. And today there are more reports of the extent of poverty in Olivia Carville's Quake-hit Christchurch families still living in squalor and Jo Moir and Michael Forbes' Sponsorship programme for Kiwi kids.
* The state of manufacturing is the issue of the day, with the opposition's inquiry into the sector arguably fostering a mood for economic and political change amongst some business leaders. Newswire reports that one businessperson has put forward his solution to the 'crisis' in manufacturing as 'perhaps a change of government' - see: Manufacturing inquiry draws submissions. And Adam Bennett reports that there is increased business support for the opposition's more 'hands on' economic prescription - see: Manufacturers threaten to quit NZ.
* Patrick Gower says that 'the housing wars' are 'this year's first big political issue', and already tensions are reaching the point where allegations of xenophobia and racism are coming into the debate - see: Housing affordability: Key accuses Greens, NZ First of 'racism'.
* The Labour Party's current problems can be located at The Standard blog according to Matthew Hooton in Labour heading to another meltdown. This column explains the power of blogs to set the political agenda and for supposed party extremists to destabilise their own side. But Labour staff might also want to read Cameron Slater's blogpost, Social media morons of the Labour Party, as he's helpfully gone through Labour MPs Facebook pages and identified various out-of-date statements such as Annette King claiming to still be the party's deputy leader.
* Another commentator calls time on the Maori Party, suggesting the aging party has achieved very little - see Dave Armstrong's Maori Party faces extinction. Meanwhile, the contest for the Maori seats appears to be heating up - see Claire Trevett's Shearer's tilt at Maori seats brings swift rebuff.
* TVNZ and RNZ are in decline according to the ODT, and the 'signs are pointing towards some major changes for state broadcasting in New Zealand' - see: Public broadcasting's future.
* The Government's changes to WOF testing seems to have the support of most newspaper editorials - see, for example, Southland Times' Fit for the road and the Herald's Car warrant of fitness changes show balance.
* The latest must-read opinion pieces about Treaty politics are Elizabeth Rata's Tribalism, democracy incompatible and Paul Moon's Exploding popular myths about the Treaty of Waitangi.
* Finally, the US is currently debating letting women into combat roles in the military, but as Greer Berry points out in We can be proud of military equality, the NZ Defence Force made this decision back in 2000.