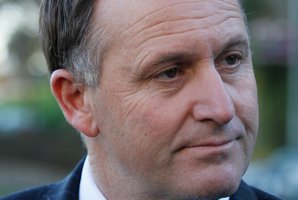 Just why Prime Minister John Key is cuddling up to Winston Peters in his hour of embarrassment is hard to fathom - unless of course he's softening him up as a potential coalition partner. But better fun surely just to sit back and enjoy the sight of another of the New Zealand First leader's hand-picked acolytes going rogue.
Instead, he's backing the reintroduction of the waka-jumping legislation, first passed in 2001 by the Labour Government and its Alliance allies in response to public disquiet about the level of "party-hopping" by MPs over the previous decade.
The Electoral (Integrity) Act forced "unethical" MPs who deserted their ship or fell out of favour with the party leadership to give up their seats.
The act was passed before Mr Key entered Parliament but was vociferously opposed as anti-democratic by the National members at the time. To appease the uneasy, a five-year sunset clause was included.
After the 2005 election, part of Labour's coalition deal with Mr Peters was a promise to try to revive the act for all time. It failed to get through Parliament, a broad coalition including National, the Greens, Maori, Act and United Future all opposing it.
Leading the opposition were three of Mr Key's main lieutenants in the present Government, Attorney-General Chris Finlayson, Deputy Prime Minister Bill English and Leader of the House Gerry Brownlee.
Mr Brownlee, then deputy leader, called it a "draconian" bill that "effectively destroys the integrity of members of Parliament" and Mr English called it "an abomination on the Parliament".
There's no Hansard record of Mr Key, who entered Parliament in 2002, speaking in this brief debate. But when the review of the MMP electoral system was launched after the last election a year ago, he highlighted "waka-jumping" as his main dislike. List MPs who change parties should leave Parliament, he said.
On breakfast TV this week he was again flirting with the idea. Talking about Mr Peters, and the allegations swirling around his list MP Brendan Horan, Mr Key said, "Let's say he's done something really bad and he should be kicked out of Parliament, then in my view he should actually leave Parliament. He doesn't have to. The law doesn't demand that."
Mr Key said that when a list MP parted with his party he should leave Parliament. NZ First "have a certain number of seats in Parliament, they should enjoy that level of representation".
Admittedly the discussion was hard to follow - perhaps Mr Key is not a morning person - but he did seem to draw the line at a situation where "Winston Peters says this is all about politics and it's a bad look that somebody's taking money from their dying mother, so I'll just kick him out for political reasons, but it's not proven ..."
However, he supported a rule that said tossing an MP out of Parliament "should be allowed for political reasons, if your political differences mean you cannot work together ..."
The present meltdown in NZ First is very much in the former category, involving a party leader trying to deal with a nightmare that has nothing to do with politics. Which does make you wonder why Mr Key is discussing it. It's not as though the Electoral Commission's review of the MMP system, which is sitting on his desk waiting for action, touches upon the issue. Presumably it's not there because they were considering ways to enhance our democratic system, not shackle it.
The first thing to remember is that party-hopping was a disease of the last years of the First Past the Post era, not a product of MMP. In the four years up to 1996 when MMP replaced FPP, 17 MPs defected, mainly from National to NZ First or United New Zealand. Since Mr Key came into Parliament, only three list MPs - including Mr Horan - have parted from their parties, two of them booted out. In the same period, four electorate MPs changed parties, two booted out, two to form new parties, forcing byelections.
So it just isn't a problem, except for the odd embarrassed party leader.
Mr Brownlee highlighted the problem in the 2005 debate. "The minister over there said that one of the great things about MMP is that it has seen a diversity of views come into this House. Well, the reality is that that diversity is only going to be to the extent that any political party leader allows. So we will have the Green Party members all pretty much clones of their leader, the NZ First Party members almost clones of their leader, and we already know that the Labour Party members, of course, choose to be clones of Helen Clark ... That cannot be good for Parliament. That cannot be good for democracy in this country."
The report of the Justice and Electoral Committee which opposed the legislation said the bill was "neither necessary nor appropriate". The deputy chairman of the committee, and leader of the majority opinion, was Mr Finlayson.
"In the MMP era, the voters have shown very little patience with MPs and political parties which have failed to keep faith with their electors. By far the most effective remedy for such behaviour lies with the voters."