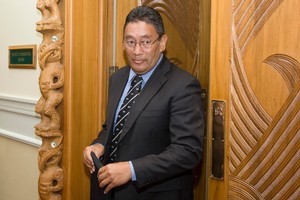 A third of Maori roll voters would support a new political party led by Hone Harawira, a Native Affairs/Baseline poll has found.
But Labour leader Phil Goff is already ruling Mr Harawira out as a coalition partner.
The poll, released tonight on Maori Television's current affairs show, surveyed 500 voters in the seven Maori electorates.
Asked if they would vote or support a political party led by Mr Harawira, 32 per cent said yes, 58 per cent said no and 10 per cent were undecided.

Matt McCarten, who brokered the deal under which Mr Harawira left the Maori Party, said the numbers showed the rebel MP and Labour could have taken three of the four seats held by the Maori Party.
That was because the 58 per cent "no" votes would have been split between the Maori Party and Labour.
Taking Pita Sharples' Tamaki Makaurau electorate as an example, Mr McCarten said Labour was likely to have held its high support. But based on the poll result, Mr Harawira would take support from his former party.
"A third of Maori are identifying with his position. It's extraordinary to me that the Maori Party didn't get that. In a three-way fight the [Maori] Party will be cleaned out."
Mr Harawira, who is likely to hold the Te Tai Tokerau Maori seat, held talks about a new party last week. To get a second MP into Parliament he would need at least 1.7 per cent of the party vote.
Baseline's Murray Campbell said the survey showed, any party led by Mr Harawira had a fighting chance of taking a seat, which could make him a kingmaker".
Mr Harawira said he doubted Mr Goff would hold his resolve if Labour found itself in a position to govern.
"I absolutely guarantee you that if I form a new party and we have the seats to make a difference, he'll be ringing me as fast as he possibly can."