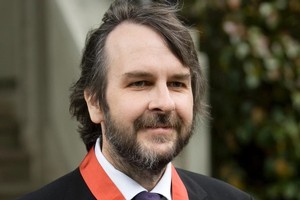 It takes a long time to build a reputation and just one moment to destroy it. Sir Peter Jackson may think he won his battle with his hobbits, but his halo of sainthood has disappeared and won't return.
Many of us remember Jackson as that tubby, geeky guy in baggy shorts and big glasses who endeared himself as a self-effacing movie buff who became an international household name because of his talent. We revelled in his fame and even gave him a knighthood.
Making his home and work base in New Zealand, he provided jobs for Kiwis and that placed him alongside Sir Edmund Hillary as an iconic New Zealander we looked up to. Everything the glossies print about him is gushing and reinforces our warm fuzzies.
But this month the illusion was shattered.
Our man morphed into a slimmed-down, suited-up media mogul with a metal fist that he was unafraid to use to squash those who annoyed him.
Of course, he didn't become what he is by being a wilting flower. Directors are gods on their sets and used to getting their way. He clearly is a man not to be trifled with.
The NZ Actors' Equity has been trying forever to reach agreement on basic conditions for actors from New Zealand film producers. Jackson point blank has refused to even meet.
To get Jackson's attention, the union wrote to their counterparts around the world asking for support, up to and including a possible boycott of Jackson's next film.
That certainly got his attention. All hell broke loose. Jackson threatened to take his toys offshore and disingenuously insisted the whole thing had been concocted by some Australian union thug against us poor defenceless Kiwis.
The truth is film-making is an international business that knows no borders. Every film made here has actors and film crew from all over the world working on the sets.
Naturally, the smart thing was for actors and film workers to form links with other film unions and try to set international work standards.
The NZ Actors' Equity is small and its members have been exploited for years by local and international film-makers. Wisely, they have affiliated with a bigger and better-resourced union across the Tasman.
But the Aussie slur worked a treat and the mainstream media joined in the braying for blood.
Even after Equity withdrew any threat and guaranteed industrial peace, Jackson's business partner and Weta boss Sir Richard Taylor marched a mob of Orcs to pitchfork union attendees trying to attend a meeting.
All good humour and gloating at the Jackson mansion that night I'm sure.
Quite frankly the film was never going offshore. It was an empty threat to wind up New Zealanders against Equity. Warner Bros couldn't believe its good luck and raked in millions of bucks of our money from Prime Minister John Key.
The trouble was he used our money to ingratiate himself to the Hollywood suits. And what the hell was he doing changing our employment laws on film sets even when the Americans weren't asking for it?
Unfortunately Key has that terrible Kiwi inferiority complex when it comes to celebrities.
Keep this man away from our cheque book when celebrities are around.
Our leaders have been grovelling to overseas money for 25 years - but this must be the most obscene.
I'll be down near where the hobbits live for the next three weeks as I'm running as a Unite union-endorsed candidate in the Mana by-election.
It's not appropriate for me to write about that campaign from now on, except to say I want to make a stand against how we have allowed ourselves to become grovelling serfs in our country at the behest of international money.
But here's some good news. NZ screen producers have agreed to meet Equity to negotiate standard terms and conditions for actors.
In the meantime, they will use the internationally union-approved Pink Book as the minimum basis for performers' contracts.
This is a huge victory for Equity.
Go the hobbits.