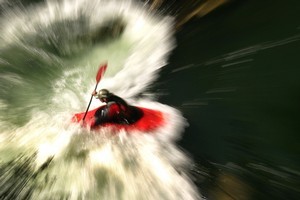 All risky adventure tourism businesses would have to be registered and pass an upfront safety audit to operate, under a new Government proposal.
The proposal is in response to a review ordered by Prime Minister John Key into the adventure tourism industry, following a number of deaths that have happened in the sector in recent years.
One such tragedy was the death of British tourist Emily Jordan, 21, who became trapped between rocks while riding a body-board down a raging river near Queenstown in 2008.
Between 2004 and 2009, 39 people died in New Zealand while doing outdoor activities.
"The industry has grown rapidly and continues to innovate. What this review found is that our adventure tourism operators take their responsibilities seriously and manage risks effectively," Labour Minister Kate Wilkinson said.
"However, for some activities there are gaps in the safety management framework that could allow businesses to operate at a lower standard than industry experts consider acceptable."
The scheme could capture 1500 commercial operators including those that offer activities such as bungy-jumping, canyon-swinging, adventure-hikes, rock-climbing and mountaineering.
Adventure aviation, commercial jet-boating and rafting would be exempt as they already need to pass strict safety requirements.
The Department of Labour, which is putting together the proposal and will report in November, will also consider if clubs should be part of the compulsory registration scheme.
The cost of an initial audit would depend on the risk. Medium risk would be $1000, and high risk would be $2200.
The audits would be repeated periodically, and subsequent ones would be half the price of the initial audit.
The scheme, which would cost between $150,000 and $250,000 to set up, would be world-leading. At present the industry must abide by health and safety legislation and also has a voluntary accreditation system for risk management.
The DoL will look at:
* Facilitating the establishment of an industry-led entity focused on the safety management framework for the sector;
* Investigating developing a register of government-accredited adventure tourism-related safety auditing schemes; and
* Investigating whether instructors and guides should be required to hold qualifications and work only within the scope of those qualifications.
It will report back by November 30.