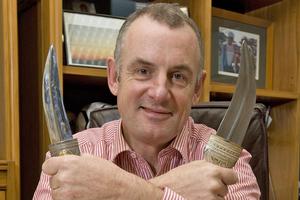 Three rugs, four necklaces and a wristwatch from former French President Jacques Chirac were among the gifts that Helen Clark took with her when she was ousted from power in 2008.
The gifts - which oddly included "computer equipment" from an Apec meeting in Taiwan - came from all corners of the world including Brunei, Indonesia and Lithuania.
Helen Clark declined to reveal the gifts a few weeks ago, at which time a spokesperson said: "Helen Clark followed the procedure determined by the Cabinet Office and has no further comment to make."
But a letter from her to incoming Prime Minister John Key, released through the Official Information Act, revealed 15 gifts along with others that her former ministers kept after being voted out.
Labour MP Trevor Mallard used to show off his antique daggers - gifts from the Governments of Oman and Saudi Arabia - to add muscle to his negotiating power.
Mr Mallard, as Associate Finance Minister negotiating Budget money with other ministers, used to put the daggers on the table as a silent gesture to dampen down "overly optimistic" expectations.
One of the daggers has a sheath of silver, while the other is encased in silver and gold.
Neither are particularly sharp, though Mr Mallard said he had not tried to use them to cut anything.
He keeps them in his Parliamentary office and did not know how much they were worth, but "considerably more" than $500.
The Cabinet Manual states that gifts worth more than $500 have to be relinquished unless the Prime Minister allows ministers to keep them. When there is a change of government, the outgoing Prime Minister decides who can keep what.
"The Secretary of the Cabinet has confirmed that where there is a complete change of government, the outgoing Prime Minister should determine which gifts may be retained," Helen Clark's letter reads.
"I also include a list of the gifts that I have received as Prime Minister, which I intend to retain."
These included brooches, pendants, a desk clock and rugs from Turkey and Afghanistan.
Progressive Party leader Jim Anderton kept a Cartier clock - a gift from a Jordanian minister - made by the famous French jeweller and watchmaker.
Mr Mallard, when he was Minister for the America's Cup, received a bottle of cognac from 1962.
The bottle was part of a series of bottles of Hennessy cognac made for the 150th anniversary of the event in 2001.
An auction for a commemorative set of 31 bottles of cognac - each bottle with a label depicting the challenger and defender and the winning skipper's name from the year concerned - sold for £310,000 (NZ$678,900) to businessman Bill Koch, whose boat won the Cup in 1992. He outbid, among others, Microsoft founder Bill Gates.
Single bottles were given to representatives of the challengers for each event, though Mr Mallard was a lucky recipient of the 1962 bottle; he was considered the best alternative to businessman Australian Alan Bond, who was facing criminal charges at the time of the anniversary.
Mr Mallard said he intended to auction the bottle in two years, when the cognac will be 50 years old, with proceeds benefiting youth yachting in Wellington.