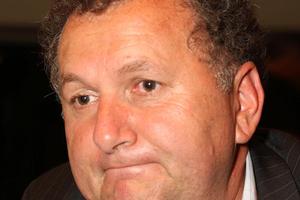 Former Labour Minister Shane Jones has admitted using his ministerial credit card for pornographic movies while he was a government minister.
In a call to RadioLive, Jones apologised and told hosts Willie Jackson and John Tamihere he was a "red-blooded adult."
"At various times I have stayed in hotels and, I have to put my hand up, watched blue movies and then ended up paying them back."
"It shouldn't have happened, it has happened, it doesn't make me feel particularly worthy but I'm not going to hide from it."
Far North list MP Mr Jones earlier revealed he had paid back about $5000 that he wrongly spent on his credit card.
Mr Jones was minister for building and construction during 2007-08 in the previous government and admits to wrongly using his card to charter a plane and buy wine, magazines and books. He also wrongly used the card to buy movies when he stayed at hotels.
A list of Mr Jones' 2007 spending appears at the bottom of this article.
Asked if the movies were of "an adult nature" or not, Mr Jones initially said he could not remember.
"I can't recall exactly what they were; drugs sex or rock and roll. I am a movie buff," he told Radio New Zealand.
"I don't recall. I watch a lot of movies ... I don't know. I won't rule it out but I don't remember."
He later told Radio New Zealand that he had "fessed up".
"My wife is threatening to kill me," Mr Jones said.
Asked what was going through his head when he used his Ministerial card for personal expenses, Mr Jones said it was "a very faulty judgement and there is nothing I can say to explain it away".
Other expenses he refunded included CDs, books and magazines he bought on the road - "I hasten to add not Playboys or Penthouse."
On one occasion he chartered a flight. His scheduled flight was cancelled so drove to Auckland from Kaitaia, but needed to get to a meeting in Tauranga where he was to speak.
The flight was around $1200, he said.
"It is on the card."
Wine costs included an event at which he hosted a group of architects and about $300 of wine was drunk. He paid that back but said he did think it was a work expense.
Mr Jones said he paid the money back in late 2008 and in the December break after the election.
"I knew one day there was going to be a reckoning with disclosures over credit cards."
He said he realised he'd pushed the margins.
"I was too loose for my own good in terms of putting things on the card ... Fair cop, I put things on the card that ought not to have been there. I've got to accept responsibility. The media is the proxy for the public and I've got to fess up," Mr Jones said.
Mr Jones earlier this year admitted to media wrong spending on the card to media at the time of the Phil Heatley saga but not the extent.
National's Mr Heatley stood down from his housing and fisheries portfolios in February because of wrongful use of his ministerial credit card, but was reinstated in late March by Prime Minister John Key as Minister of Housing in February after an Audit Office report said his spending was not deliberate.
Ministers and former ministers credit card records were delivered to journalists this morning.
Thousands of documents which took officials four months to gather show what ministers used their credit cards for during the six years Labour was in office and the current Government's term up until February. They have been released under the Official Information Act.
Internal Affairs spokesman Allen Walley said the cost of the release was in excess of $50,000 and three staff had worked full-time on it since requests came in February, when the first release of credit card records for the National Government were made public.
The information had to be accessed, copied, collated and have privacy checks done.
About 14 sets of eight cartons of documents - there are 7000 individual documents - were delivered to parliamentary press gallery journalists at 9am.
The release covered from April 2003 until February this year, taking in much of the Labour Government's last term in office.
Shane Jones ministerial credit card spending 2007
8/11/07
$39.80 Movie City Life Hotel
16/11/07
$19.90 Movie Sky City Grand
17/11/07
$19.90 Movie Sky City Grand
18/11/07
$23 Minibar Sky City Grand
28/11/07
$115 H W Munns
28/11/07
$19.90 Movie Heritage Hotel
29/11/07
$19.90 Movie Heritage Hotel
1/12/07
$12.40 Magazine and panadols, Shell Taipa
7/12/07
$18.19 Confectionary Shell Kensington
8/12/07
$34.31 Bar Lounge Ascot Hotel
16/12/07
$86.09 Kaeo Service Station (personal)

10/01/08
$19.90 Movie Sky City Grand
$19.90 Movie Sky City Grand

11/01/08
Movie Sky City Grand
$19.90 Movie Sky City Grand
$19.90 Movie Sky City Grand

12/01/08
$40 Degree Gastrobar Auckland

15/01/08
$72 Gosche Flowers

21/01/08
$19.90 Movie Heritage Hotel

14/02/08
$19.90 Movie City Life
$19.90 Movie City Life

22/02/08
$19.90 Movie City Life

29/02/08
$19.90 Movie City Life

06/03/08
$21.50 Movie Stamford Plaza
$60 Maidment Theatre Auckland

07/03/08
$21.50 Movie Stamford Plaza

24/03/08
$40.92 New World Thorndon

28/03/08
$18.68 Movie Stamford Plaza

8/12/07
$19.90 Movie Ascot Hotel
- NZPA and NZHERALD STAFF