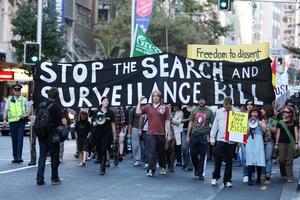 Protesters took to the streets this afternoon to protest against the Search and Surveillance Bill.
Student Cameron Walker, who organised the Auckland rally, said the bill overturned many important liberties which were an essential part of a free and democratic society.
"There's the Pork Board and WINZ and 70 other government agencies. It seems rather bizarre to give all those other agencies the same powers as the police," he told One News.
The Search and Surveillance Bill, based on a 2007 Law Commission report, is currently before Parliament.
It would extend search and surveillance powers currently held by the police to another 70 state agencies with law enforcement responsibilities, including the Fisheries Ministry, Work and Income and the Pork Board.
The bill would also give police the power to get a "production order" and possibly compel someone to give evidence against their will.
Opponents say it overturns important aspects of civil liberties.
The Human Rights Commission, trade unions and several lawyers have already raised concerns about the bill.
Auckland Civil Liberties president Barry Wilson fears a Select Committee will simply wave the bill through.
"I'd be amazed if the bill underwent radical surgery despite opposition from state agencies such as Human Rights commission and a whole range of non-government bodies."
He told One News: "Tomorrow is Anzac Day and there'll be a tremendous outpouring of sentiment remembering the people who died for basic freedoms in two world wars. What this bill does goes a long way to undermining those basic freedoms."
Mr Wilson said submitters to the Select Committee only had ten minutes to put their views across.
Demonstrations took place at Cathedral Square in Christchurch, Cuba St in Wellington and the Auckland Town Hall.
- NZPA, NEWSTALK ZB, NZHERALD STAFF