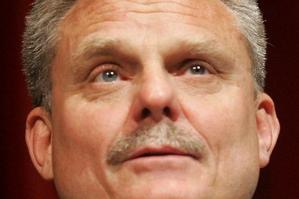 Act MP David Garrett has told prison officers that they have harmed their future job prospects by speaking out against private jails.
A group representing 30 officers who have worked for a privately run prison made a submission this week to Parliament's law and order select committee, which is considering legislation to enable private operators to run jails.
After Bart Birch, Uaea Leavasa and Satish Prasad criticised how Auckland Central Remand Prison was run under private contractor GEO between 2000 and 2005, Mr Garrett weighed in.
"You say that you don't want to go back to working in this environment - to the private [sector]. You'd be aware that given your submission here, you wouldn't get offered a job anyway, would you?"
Other MPs were visibly disturbed by the remark and National's Shane Ardern was quick to reassure the men that they should feel free to speak their minds. "Can I say, from my own party, you can sit here without fear or favour," he said.
The committee's acting chairman, Labour MP Clayton Cosgrove, added his support to Mr Ardern's remark.
Corrections Association president Beven Hanlon said he thought the remark out of line. "For him [Mr Garrett] to then threaten staff over future employment is a great concern."
Mr Cosgrove said Mr Garrett's tone had been badgering.
"I think he needs to learn that we live in a democracy and in a democracy ... you're allowed to have a view and we should [give] people the respect of actually listening. But he's behaving like a bully."
Mr Garrett said later: "They were quite clearly extremely negative about the private prison managing company. It would seem to be most unlikely they would get a job with that company."
He agreed the select committee process should be open and MPs should not stymie the free exchange of views, but did not think he had affected that.
"They have the right to say whatever they like ... I didn't see I was stymieing free debate at all."
- NZPA