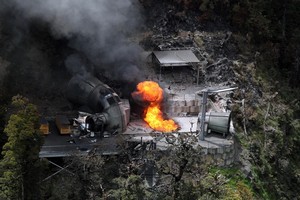 Company bosses have been accused of failing to plan for a deadly explosion at the Pike River mine during an inquiry into the November disaster.
Mine safety and training manager Neville Rockhouse, who lost his son Ben Rockhouse in a series of explosions at the mine, is giving evidence to a Royal Commission of Inquiry into the disaster at Greymouth.
He came under heated questioning from Engineering, Printing and Manufacturing union counsel Nigel Hampton over safety concerns at Pike River.
Mr Hampton said company management had not taken steps to ensure a fresh air base in the mine would work after an explosion.
He asked Mr Rockhouse why he did not know the exact number of self-rescuers at the fresh air base.
"Nobody wrote into these plans the possibility that an explosion might occur.
That's the reality... isn't it?"
Mr Hampton accused Pike River Coal management of saying "nobody expected this mine to blow up and therefore we didn't plan for that occurance."
Mr Rockhouse said the fresh air base had been designed for a fire making the mine atmosphere unbreathable, rather than an explosion.
Management had not expected the mine to explode, he said.
But he rejected the accusation the company had not put a focus on safety and said the possibility had been considered in mine planning.
Earlier, Mr Rockhouse said he had "always" been concerned over a ventilation shaft being used as a second exit from the Pike River mine.
He said he did everything he could to prevent it being declared the official second escape.
"At no time did I ever accept this as being a satisfactory means of exit from the mine in any type of emergency situation."
Pike River Coal (in receivership) counsel Stacey Shortall this afternoon questioned that account.
She pointed to company documents that did not indicate Mr Rockhous had objected to the shaft being named as a second mine exit.
He said he had always disagreed with the decision to make it a second exit - but had been overruled by company management.
The inquiry has now adjourned for lunch.