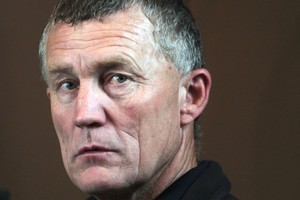 Greymouth Mayor Tony Kokshoorn. Photo / Doug Sherring
The bodies of the Pike River 29 have come a step closer to being recovered after plans were revealed to enter the mine this week.
Rescue workers will seal off the mine 100m at a time, starving it of oxygen to remove the danger of explosions, in a painstaking operation that could take months to reach the miner's bodies.
Greymouth Mayor Tony Kokshoorn welcomed the development but said he was concerned the mine might be sold before the mission was complete.
Receivers PricewaterhouseCoopers had been under pressure from the families of the West Coast miners to try to remove them and give them a proper burial.
Receiver John Fisk said the ultimate aim was to tunnel around a rockfall, get to where the bodies were and remove them.
Family members have been warned the mission would be difficult and could take up to two years.
A seal would be put in place at the rockfall and a new tunnel would have to be dug to get to the miners.
Fisk admitted there was a strong possibility the mine could be sold before the miners were reached.
Kokshoorn said he was concerned rescuers would only be halfway down the tunnel by the time receivers sold the mine at the end of August.
"The receivers will sail off into the sunset, the secure creditors will get their money and the community and family members will be left with 29 people lying dead in the mine."
He has written to Prime Minister John Key asking him to put a caveat on the mine's licence so everyone putting in a tender had to include a recovery plan.
"That way there'll be closure for families. He was very sympathetic and I'm quietly confident he'll pull a rabbit out of a hat."
Kokshoorn said if the bodies weren't recovered unions had said they would put a worldwide blacklist on the mine. "They'll get my endorsement."
"Yes we want it sold, but it's a package deal. There's no separation between miners and coal."
Fisk said it was up to the purchaser of the mine and the terms of the sale whether or not the retrieval of bodies took place.
"Most parties have indicated they're aware of what the possibility is with body recovery, but there's been no detailed discussions and it's too early to speculate."
He said no matter what happened, getting the mine stable was the "number one priority".
Contractors' spokesperson Peter Haddock said media pressure had caused PricewaterhouseCoopers to go ahead with the re-entry.
"While there's a chance it has to be done, nobody can grieve without a service."
A new owner that didn't attempt to remove the bodies wouldn't get much local support.
"They'd have a hard road and if bills were unpaid it'd be case of once bitten twice shy."
Pike River exploded on November 19 last year, with 31 miners and contractors working inside.
Two miners walked from the mine and were treated for moderate injuries.
A second explosion occurred on November 24. Family members have waited seven months to bury their loved ones, and it's still uncertain whether they'll see them at all.