Police ought to know what pepper spray or a taser feel like before they use them on other people. Right?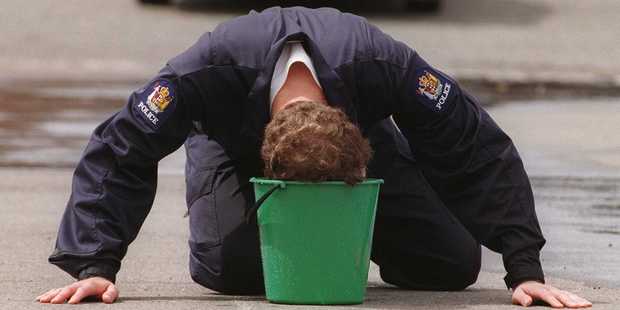 In hindsight, it may not have been such a good idea. No, Constable John Burton isn't hungover. He's not thirsty, nor just in a bad mood.
In January 1998, the police use of pepper spray was a hot topic. Was it cruel and unusual punishment? No, it wasn't, said police top brass. How could they prove that? Well ... newspaper photographers capture cops in a variety of scenarios - in the heat and drama of emergencies, in buttoned-down press conferences, in the long hours beside crime scenes fenced off with bright yellow tape.
But Herald snapper Mark Mitchell says he hasn't forgotten the police pepper spray demonstration in Wellington on January 27, 1998.
"These guys at the time had to go through it themselves to understand what it did," Mitchell said. "All these guys for about half-an-hour or an hour were sticking their heads in buckets of water. It was quite amusing, to be honest."
Seeing police officers lining up to be pepper sprayed was a first. The experience was not pleasant. Some journalists volunteered, too.
"My eyes closed, my sinuses erupted and waves of nausea turned my stomach upside down," an Evening Post reporter described on January 28 that year. The nasty effects lasted an hour.
Fifteen years after Burton was sprayed with oleoresin capsicum, cops are demonstrating the new X26 tasers, hoping to show the public that stun guns are effective without being lethal.
Twenty Wellington police officers have been training to use the new tasers.
The stun guns fire two barbed metal darts at the victim, handing out a powerful electric shock. The new taser model can fire twice before it needs reloading. It has been shown off around the country this autumn.
Mitchell went along to a taser show, too. One of the policemen there had the unfortunate honour of having been voluntarily victimised with both devices.
"The cop demonstrating it made the comment he'd rather be tasered than pepper sprayed," Mitchell said.