Next week, the Parnell restaurant will notch up 40 years of continuous service - an Auckland record.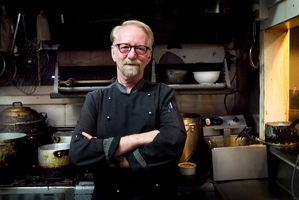 It doesn't look much of a kitchen: the bench is barely a metre long and the chef has just enough space to swing a Sabatier.
The saucepans on the rack about the hob are flame-blackened by years of use. Out the back, where his three sous-chefs work, there's an oven so old that a small crescent spanner does service as a control knob. A recess has been crudely hacksawed into a stainless-steel bench. The plates are kept hot in an old pie warmer.
But out of this kitchen in an old house at 333 Parnell Rd have emerged plates of luxurious rich food that exultantly celebrate the chef's view that there is, by and large, nothing so good that it won't be improved by the addition of butter and cream.
That chef is Tony Astle, whose restaurant, Antoine's, adds a French accent to his given name.
Sometime in the next week, Antoine's will notch up 40 years of continuous service to the city's more well-heeled diners. In a town where the average longevity of a restaurant is counted in months, that's some achievement. It's also an Auckland record: the Tony's steakhouses in Wellesley St and Lorne St have been opened longer, but the ownership has changed over the years.
"I'm not sure of the exact date," Astle told me when I sat down with him at one of the tables, taking care not to spill any espresso on the starched linen. "It was some time in May. We've always said May 29."
Astle had returned from England, where he'd been cooking in a pub in Croydon, to open Antoine's. The house he had chosen was one of the rather derelict flats that Parnell was known for before its gentrification. "About 500 people have told me they lived here," he says, "and I say 'whatever'."
The front part was originally Dame Sister Mary Leo's rooms at St Mary's Convent, where Kiri Te Kanawa learned to sing: Parnell's redeveloper, Les Harvey, "brought it over and clipped it on".
What Antoine's brought to Auckland - and still delivers - was the most formal of fine dining.
Astle started at 15 in Wellington as a waiter in the legendary Le Normandie (under the fearsome Renee Charlton, aka Madame Louise) and moved on to Des Britten's Coachman in Courtenay Place.
"Normandie was almost dinner-suit stuff," he recalls. "And I wanted to have that formal tradition but I wanted it more so.
"We were as pretentious as hell. The menu had the dishes in French with English underneath for about 10 years. But people liked it.
"This restaurant would never survive if it opened now. It's too formal. But we want to stay that way."
And so it does. Diners ring the doorbell and are formally admitted ("We get a lot of flak for that from people who really shouldn't be here. But the overseas people love it.").
The waiters - the full-timers are all French - do silver service at the tableside. There is no eftpos - you zip-zap your credit card the old-fashioned way - and the prices are GST-exclusive.
It's pricey all right (though they don't charge extra for bread or vegetables) but Antoine's has survived the ups and downs on the loyalty of his regulars, who regard it as a second home.
A "nostalgia menu" celebrates the dishes that made the place famous: duck a l'orange; ox tongue; French onion soup. And Astle specialises in offal, which comes and goes at other establishments, but has been an Antoine's speciality all the way.
"I'm not being up myself here," Astle says, "but I am one of the better cooks of offal round here. We do tripe with peppercorns and sherry - and we cook it twice. It's left in its jelly and then I reduce it down. I tell you what: when you have a hangover, it's wonderful. Better than a Georgie Pie."
Some now-big names, notably Simon Gault and Michael Meredith, paid their dues in the kitchen at Antoine's and the bulk of the diners never change what they eat. "So it's oxtail, duckling, beef cheek. Brains are huge. We can't take them off."
His wife Beth, who has been his partner in the entire enterprise, starts at 6 each morning, setting up, cleaning and doing accounts. He works till closing time which can be as late as 3am.
"Sunday's our day," Astle explains. "That's probably why we've been married for 40 years because we only see each other one day a week."