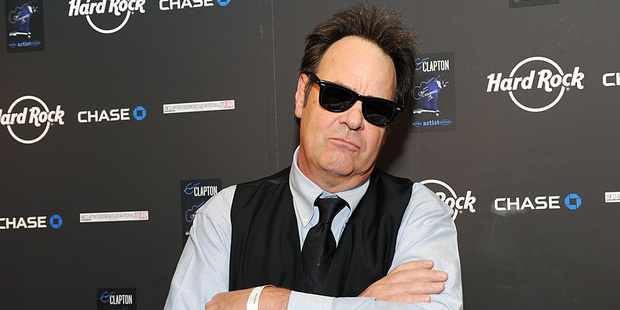 Could the long-gestating Ghostbusters sequel be inching closer to becoming less of a shape-shifting spectre and more of a tangible reality?
There's been talk of a possible third film in the franchise since the release of Ghostbusters 2 back in 1989. But despite studio interest, a script in development, and having various cast members on board, nothing has ever materialised.
And while there's still no official confirmation that the project is a go, franchise veteran Dan Aykroyd is as determined as ever to get the wheels in motion.
Aykroyd, appearing on Larry King Now (via ComingSoon) this week , waxed lyrical about his favourite subject, and offered up some vague plot details for the threequel.
As has already been widely speculated, the movie (should it ever happen) will feature a new generation of Ghostbusters.
"It's based on new research that's being done in particle physics by the young men and women at Columbia University," he told King during their confab.
"Basically, there's research being done that I can say that the world or the dimension that we live in, our four planes of existence, length, height, width and time, become threatened by some of the research that's being done. And Ghostbusters - new Ghostbusters - have to come and solve the problem."
He added: "We need four new Ghostbusters. Well, I'll be there. That casting job is easy."
'IT'S ALL A BUNCH OF CROCK'
Bill Murray, as we already know, has made it crystal clear he has no interest in reprising his role as Dr. Peter Venkman.
He told GQ in 2010: "It's all a bunch of crock. It's a crock. There was a story - and I gotta be careful here, I don't want to hurt someone's feelings. When I hurt someone's feelings, I really want to hurt them! Harold Ramis said, 'Oh, I've got these guys, they write on The Office, and they're really funny. They're going to write the next Ghostbusters'.
"They had just written this movie that he had directed ... Well, I never went to see Year One, but people who did, including other Ghostbusters, said it was one of the worst things they had ever seen in their lives.
"So that dream just vapourised. That was gone. But it's the studio that really wants this thing. It's a franchise. It's a franchise, and they made a whole lot of money on Ghostbusters."
Aykroyd confirmed last August that Murray would not participate in a new outing.
"He (Murray) won't be involved ... It's sad but we're passing it on to a new generation," Aykroyd told Metro magazine.
"Ghostbusters 3 can be a successful movie without Bill. My preference would be to have him involved but at this point he doesn't seem to be coming and we have to move on.
"It's time to make the third one."
But despite Murray's non-commitment, Aykroyd told King that there will be a "hole" for the actor in Ghostbusters 3.
"Billy has done the role twice, he's doing spectacular work as an actor - you saw him in Hyde Park on Hudson - he can now do Roosevelt in every movie, TV show or stage, he owns that," Aykroyd quipped. "I can't blame him for that.
"He's [Murray] a good friend, I love him, but he just doesn't want to reprise the role," he said. "However, there will be a hole for him. If Billy wants to walk in the door and be in the movie, we will find a place."
Check out Aykroyd's interview with Larry King here.
Director Ivan Reitman chimed in 2011 that a "very good script" for the third film - penned by the writers of the US version of The Office, Lee Eisenberg and Gene Stupnitsky - had been sent to Murray for his perusal.
A net rumour surfaced in December 2011 that Murray had read it, shredded it, and then sent the screenplay back to Reitman, with a note attached that read: "No-one wants to pay money to see fat, old men chasing ghosts."
Aykroyd recently revealed that a new screenplay is on the boil, penned by writer Etan Cohen (Men in Black 3).
"I feel re-encouraged, reinvigorated by the pages that I have seen," he told ABC News in April. "I know that we're expecting half of the screenplay to be completed very soon. It should be into production by the fall and be shooting by the New Year."
He continued, "I won't say anything, it's very exciting. The Higgs boson and the particle theories, gluons and mesons, that really gives us a scientific base in terms of our fictional storytelling, to open up to another dimension and have something horrible come through."
"It's going to be very, very exciting. I've been more encouraged than I ever have been. It sounds real now," he said.
"We've got a sharp new writer on it, Ivan is on it, Harold [Ramis] is on it, I'm on it. And if I can put the catch-net on Billy [Murray] and bring him in, it will be wonderful, if he decides to do it. There will always be a hole for him."
There's that hole again.
Aykroyd also insisted that Murray never read the previous Ghostbusters 3 script.
"I don't think he read it, because, you know what? If he'd read the second draft that I completely rewrote, he would be doing the movie," he explained. "If he'd read that draft. The part I wrote for him."
Earlier this month, Aykroyd told ShortList that he's planning to meet with Reitman to discuss the film in June.
"I'm going to be meeting Ivan [Reitman] on June 7 in Cleveland, which is exciting as it's been on and off for a few years but we're really looking at a solid script now," Aykroyd told the website.
"And I can say that it will be focused on the new generation - think the latest Star Trek."
If the sequel does go into production in early 2014 as hoped, its release would coincide with the 30th anniversary of the original Ghostbusters movie.
Watch the Ghostbusters trailer below:
NOTABLE NUGGETS
And finally ...
* Sneak peek: Megan Fox holds hands with her co-star Alan Ritchson (decked out in sexy CGI clobber) while filming a scene for the upcoming Teenage Mutant Ninja Turtles reboot.
* Supermodel Cara Delevingne is totally immune to Leonardo DiCaprio's charms.
* Bald new look: Cor blimey, is that you Christian Bale?
* "For a long time I thought I did too much damage - drug damage. I was a bit of a drifter" - Brad Pitt opens up to Esquire mag.
* Mary J. Blige's money problems worsen: She's been walloped with a tax bill for a cool $3,426,255.43.
* Catherine Zeta-Jones returns home from treatment for bipolar II disorder.
* Mötley Crüe bassist Nikki Sixx calls out Kim Kardashian for plugging bronzer during tornado.
* He's off, but is it for good? Robert Pattinson moves belongings out of Kristen Stewart's house.
* Jon Bon Jovi to Justin Bieber: Don't be an "a**hole" and disrespect your fans. Well, that's him told.
* I told you poker face Posh was no more: Victoria Beckham gets emotional during David Beckham's final football game.
* Lars von Trier's Nymphomaniac will feature body-doubles for graphic sex scenes.
* Watch: The new trailer for Disney's Lone Ranger, starring Armie Hammer and Johnny Depp, debuts.
* Listen: Beyonce's new track Grown Woman hits the net.
- Rumour Has It